Make your choice with outdoor scoreboard range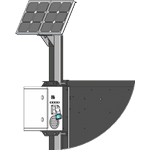 Bodet Sport offers a solar power system for sports scoreboards BT 2025. Standalone solar power system for BT2000 series scoreboards, enabling operation without the need for power supply from the stadium.

Bodet is the only manufacturer to offer a solar power in its paintings of external scores.
This installation allows clubs to enjoy the sports display without any electric power in the stadium.