Which swimming and water polo sports display solutions best equip a swimming pool?
Scoreboards, time and temperature display (air and pools): our solutions for swimming pools, aquatic centres and balneotherapy
Bodet Sport teams help you with our sports timing solutions for leisure and competitive water sports: scoreboards for water polo and LED video screens. To complete these installations, Bodet Time teams can advise you on your needs of displaying the time (reception, changing rooms and pools) and the air and pool temperature.
Displays that withstand the humid environment of aquatic centres
Swimming pools, water sports centres and balneotherapy centres (fitness, spa and wellness) are specific environments. In these facilities, equipment is subject to temperature variations, corrosion, humidity or even unintentional water splashes. To meet the specific needs of aquatic sports, Bodet Time and Sport teams design products manufactured in France to withstand both indoor and outdoor aquatic environments.
Example of a sports display solution installation in a swimming pool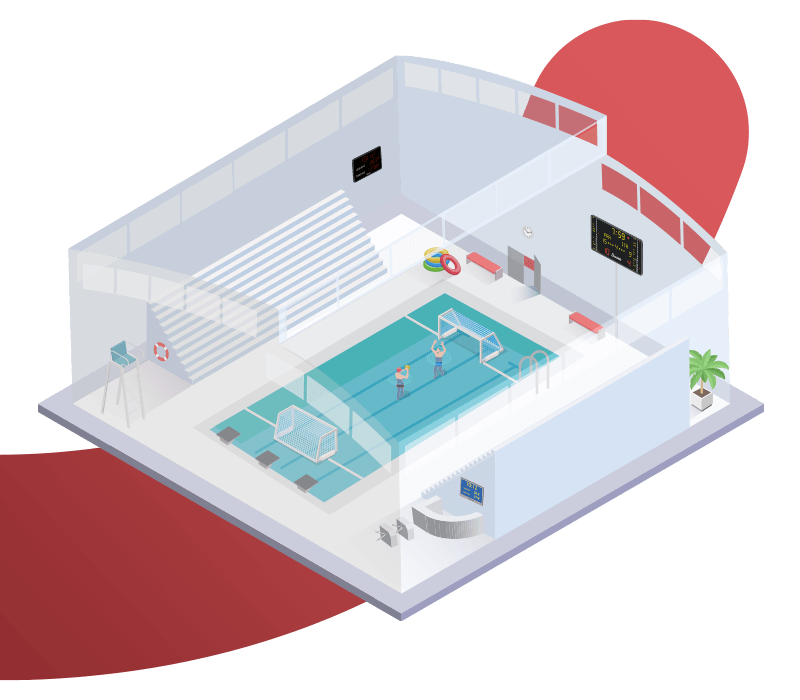 Different sports displays for aquatic sports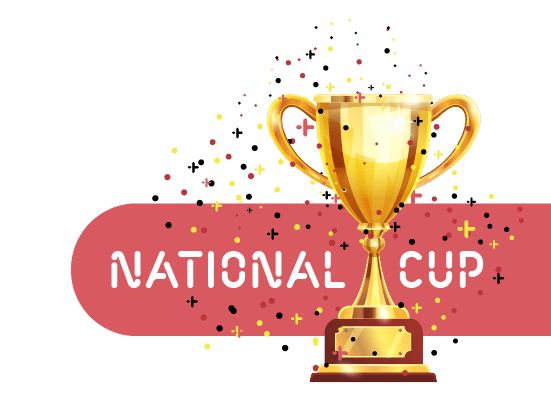 Scoreboards for departmental and regional aquatic competitions
Compact and easy to use, the BTX6120 WP is a scoreboard dedicated to the practice of water polo for departmental and regional competitions. Adapted to pool zones, it displays: the game time, the time, the dot stop timer, the scores, the period number, the time-out countdown, time-out indicators, penalty times.
To ensure comprehensive and secure display of game information, Bodet Sport also offers the BTX6002 possession display in addition to the scoreboard. Compact and compatible with the possession display, the possession keyboard can be used to set up the 20 or 30 seconds possession displays.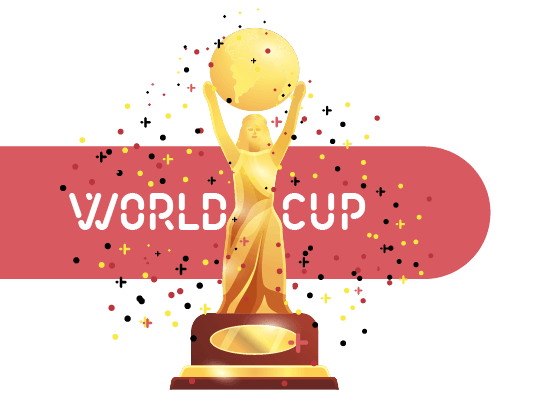 Scoreboards for international water polo competitions
The BTX6220 WP is a scoreboard dedicated to the practice of high-level water polo and displays: game time, current score and period number. This scoreboard has been designed for swimming pools hosting national and international competitions due to customisable display of team names as well as individual fouls display.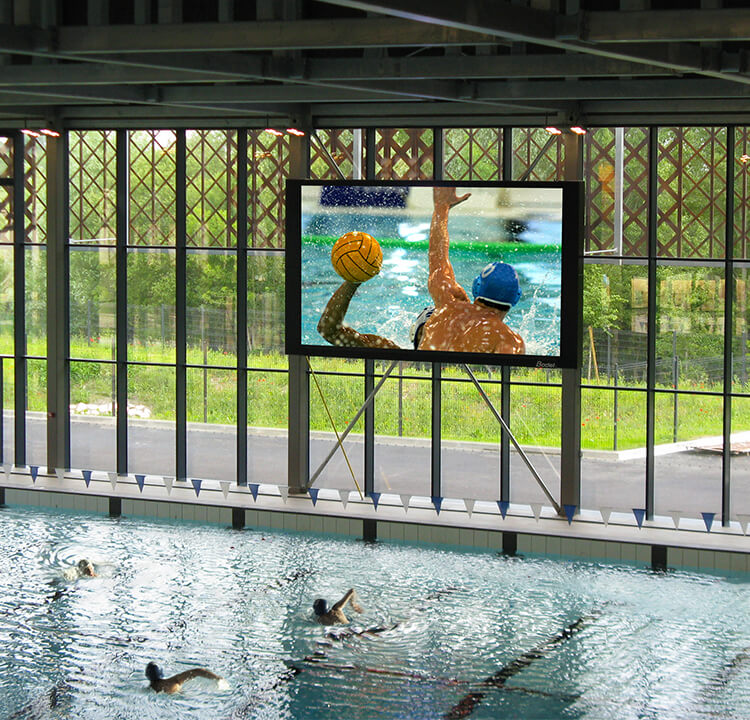 Digitising an aquatic centre and animating competitions using a LED video screen
Bodet Sport offers large-format LED video screens for displaying the scores and animating water polo or swimming competitions. These video display media allow simultaneous display of a match highlight, zooming in on arrival of the swimmers on the touch pads, giving the spectators a unique experience and promoting partners' logos and videos. In order to meet the tailor-made needs of swimming pools, different screen sizes are available: 7m², 9m², 12m² or 15m². Designed with waterproof modules (IP65 on the front), these LED video screens can withstand aquatic environments (humidity, extreme temperatures...).
In order to manage different game information on the scoreboards and LED video screens, Bodet Sport designed its own control solutions: the SCOREPAD touch screen keyboard and the VIDEOSPORT software for match animation.
In addition to providing a great atmosphere at the poolside, LED video screens for swimming pools and aquatic centres allow you to quickly benefit from additional revenue through the sale of advertising spaces to your sponsors. Indeed, these video display media display in a dynamic way advertising videos, visual animations and sponsors' logos. Easy to use, the VIDEOMEDIA software makes it easy to create and broadcast advertising animations. An investment that pays for itself!
Displaying essential information (time, temperature...) in a swimming pool, aquatic centre and balneotherapy space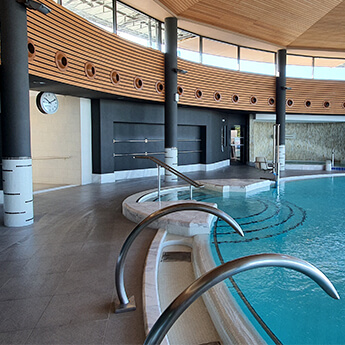 Specially designed for both indoor and outdoor pools, the AQUASTYLE POOL provides continuous display of the temperature of pools and the ambient air, time, humidity and chlorine level and pH. Customisable with stickers, each facility can choose the information to be displayed for the swimmers. Robust (IK07 casing) and hermetic (IP65), the AQUASTYLE POOL display can withstand temperatures ranging from -20 up to +50°C, as well as humidity levels of up to 93% at 40°C. The AQUASTYLE POOL can be controlled remotely using a remote control and it can also be used as a stopwatch. Simple and economical, this display is quick to install and requires no wiring. Installed in the technical facility, the temperature management unit sends the temperature information to be displayed on one or several AQUASTYLE POOL displays.
To display the time at the reception, in the changing rooms or at the poolside, opt for a Style 7, Style 7S or Style 10 waterproof digital clock. Widely used by aquatic facilities, the LED display of the Style range makes it easy to read time from near or far away.
They trust us, why not you?
Glisseo sports complex
Cholet
France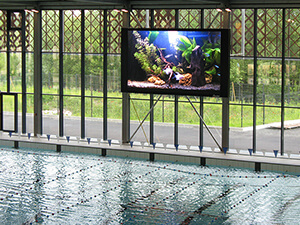 La Calinésie aquatic centre
Libourne
France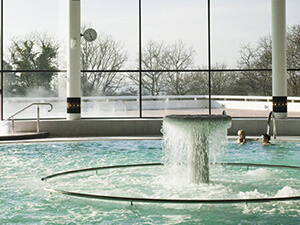 Spa Caliceo aquatic centre
Nantes
France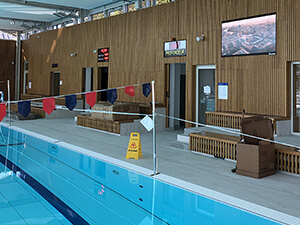 Pré Leroy aquatic centre
Niort
France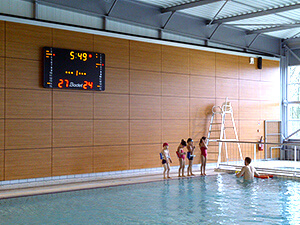 Aqua'Melle pool
Melle
France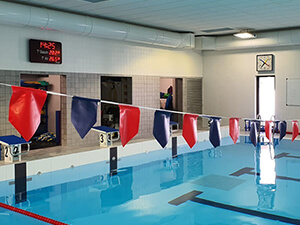 Claude Lassaigne municipal pool
Saint Pierre du Mont
France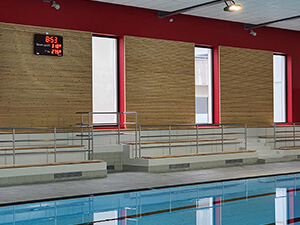 Jacques Chirac sports complex
Ussel
France