Scoring and match graphics: which sports display to choose for football?
Scoreboards, video screens and perimeter LED screens: all display media to equip football stadiums
Born in England in the 19th century, football is today one of the most practised and followed team sports in the world. Bodet Sport offers scoreboards, LED video display and control solutions dedicated to amateur and professional football which adapt to the needs of both municipal grounds and stadiums.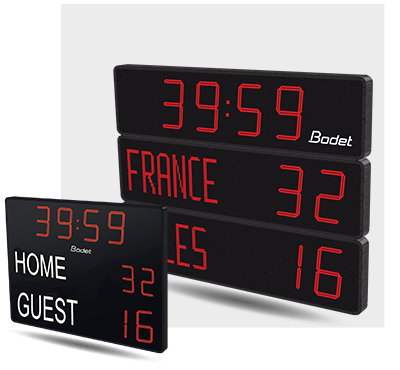 Scoreboards for all levels of football competitions
The 2025 scoreboard is perfectly suited to football outdoor practice. This easy-to-use and budget-friendly scoreboard displays the score and the timer. It can often be found on municipal grounds and stadiums hosting departmental and regional competitions. This scoreboard can be equipped with a solar power supply, which is a true asset for a sport that is practised outdoors. In the event of bad weather or sporting events taking place at a late hour of the day, the scoring display is guaranteed thanks to its energy storage system, which provides a 8-hour battery life.
More adapted for national to international sporting events, the 2045 scoreboard is perfectly suited to a stadium. It displays the essential information of a sporting event: timer countdown, number of scored goals as well as the hour or the temperature while the players are warming up. Its high-luminosity LED digits of 25 cm height provide perfect readability of match information up to 200 metres away.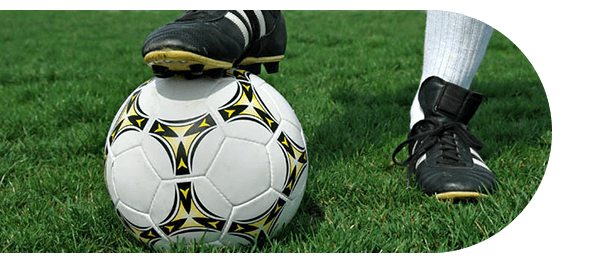 Designed for outdoor use, football scoreboards are protected by an aluminium design to resist ball impacts. They also have tropicalised electronics to face all outdoor climatic conditions (rain, humidity, minus temperature and heat waves) as well as corrosion. The luminosity of the LEDs can be adjusted in the event of strong sunlight, or at nightfall for late matches.
Two display versions are available for these scoreboards: a Classic version with team names (HOME/GUEST stickers) or an Alpha version, with customisable team names (customisable LED strips).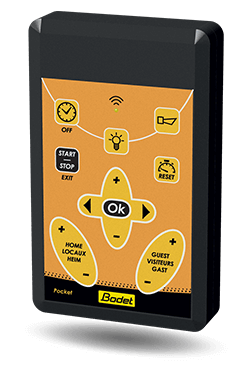 The POCKET keyboard: football scoring management solution
Designed for remote control of 2025 and 2045 scoreboards in classic version only (with HOME – GUEST stickers), the POCKET keyboard is the perfect solution for clubs hosting departmental and regional competitions.
It manages all scoreboards' essential commands: display of scored goals, launching and stopping the timer or managing the luminosity of the LEDs. Thanks to its small size, the POCKET keyboard is easily transportable and autonomous with its battery operation.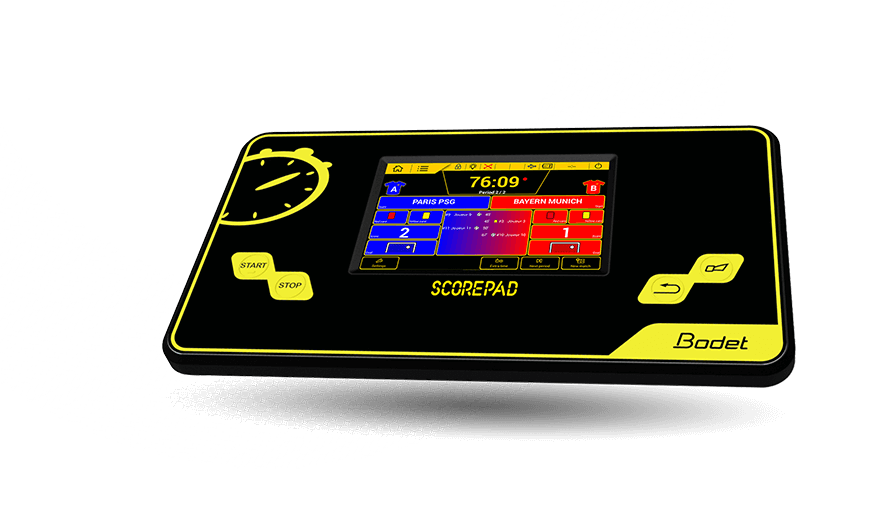 SCOREPAD

: the complete control keyboard managing all display media during a football match

The SCOREPAD control keyboard is the most advanced control solution. Its football programme allows management of all display media in a football stadium: scoreboards, LED video screen.

Accessible to all, intuitive and ergonomic, SCOREPAD makes it easy to manage a football match. Its touch screen interface allows easy customisation of a match information: team names, match duration, jersey colour, and so on. Its functionalities are perfectly suited to football international regulations which makes setting up easy: all you have to do is click on the football icon, then choose the level of practice and the match information to be displayed. And... game on!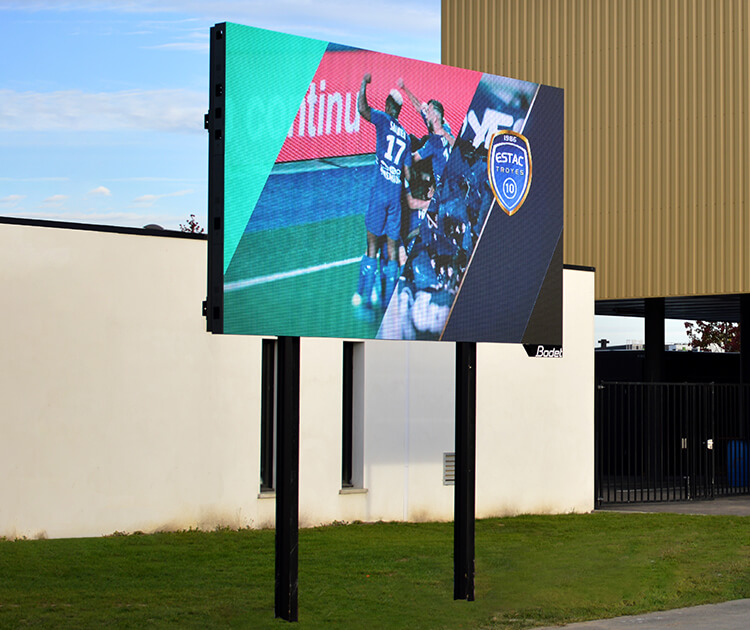 Animate football matches using giant screens and promote partners using LED video display
Single or combined to a scoreboard, standalone screens are suitable for all stadiums hosting regional and national competitions. Offered as a ready-to-use video package, this tailor-made solution adapts to the needs and budgets of football clubs, even to tighter ones. Adjustable and available in different formats (LED video screen, perimeter LED screen, combined to a scoreboard), they all have the same goal: increase advertising revenue and become a full-blown source of income thanks to the promotion of partners.
For stadiums hosting national and international competitions, giant screens and perimeter LED screens are perfect solutions to enhance all animations during the match. Spectacular, captivating and impactful: the video display gives fans a unique experience, take them closer to the action and creates emotion and a great atmosphere in the stands.
All these solutions customisable and adjustable according to the size of the stadium have been designed to last in an outdoor environment: resistant to ball impacts, vandalism, bad weather, dust intrusion or corrosion.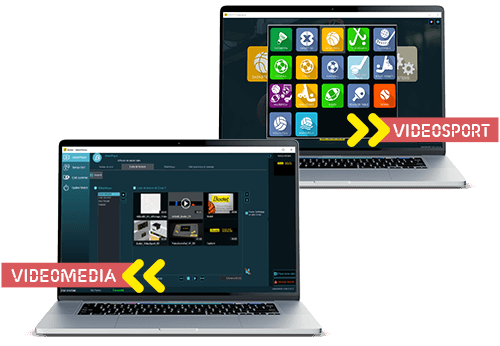 Managing scores and advertising display using
Videosport

and

Videomedia

To manage all LED video display solutions, control software developed by Bodet Sport teams which allows simultaneous management of scores and advertising display is available:

VIDEOMEDIA: It is the software for advertising display. It allows creation and customisation of video playlists in just a few clicks, to display them on perimeter LED screens.

VIDEOSPORT: It is the most advanced tool. Its several functionalities are easy to use via a computer installed in the control room and allow management of goals, match information, and video animations display whatever the display medium: scoreboards, LED video screens and TV screens.

These solutions allow simplified and centralised use of the display present in the stadium, press reception, VIP rooms or changing rooms.
Bodet Sport products adapted to football
They trust us, why not you?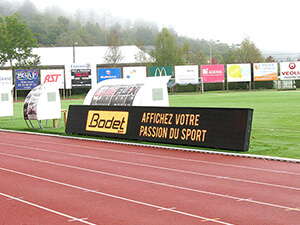 Firmin Daudou Stadium
Trelissac
France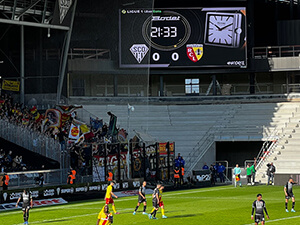 Raymond Kopa Stadium
Angers
France
Nouste Camp
Pau
France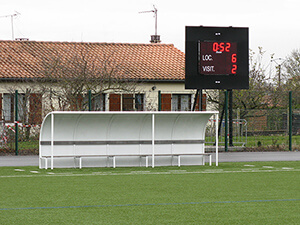 Paul Vollaud Municipal Stadium
Segonzac
France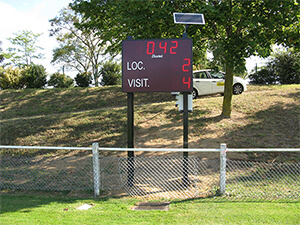 Barran Stadium
Toulouse
France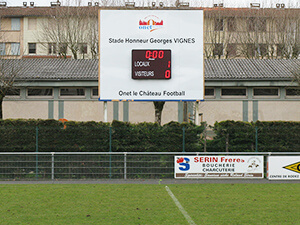 Georges Vignes Stadium
Onet-le-Château
France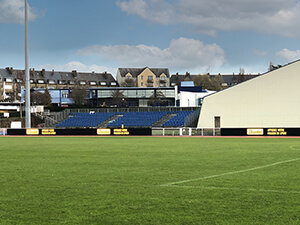 René Fenouillère Stadium
Avranches
France