How to easily control and manage scoring and video display during a match?
A control solution adapted to different sports display modes
With over 50 years of expertise, and as official technical partner of many sporting events, Bodet Sport designed hardware and software solutions adapted to different display media: scoreboards, perimeter LED screens, video screens, video cubes and social media broadcasting.
Regardless of the type of event (training, leisure or international competition) or the sports facility (sports hall, arena, stadium, dojo, swimming pool, skating rink, city stadium) or the sport practised (individual or team sport), Bodet Sport designed a control solution specific to your needs.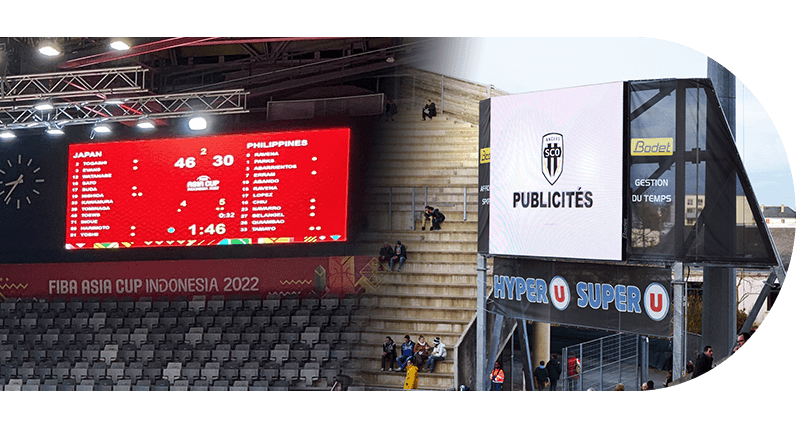 Control software for video display
of your sporting events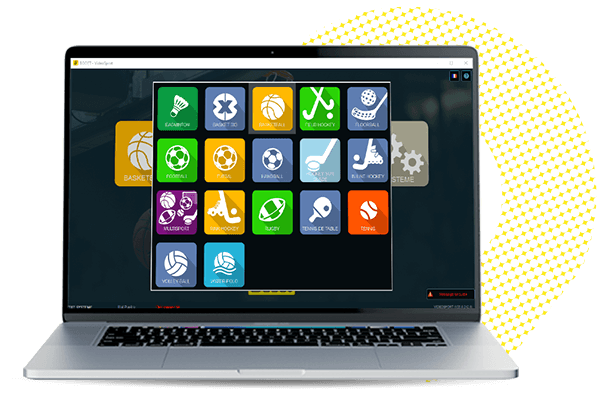 Score display
Broadcasting of match actions
Broadcasting of advertisements
VIDEOSPORT

, the software for simultaneous display of scores, game information, match animations and advertisements

During individual or team sporting events, the video control systems simultaneously manage the scoring display, the animation of screens and video cubes for broadcasting match highlights, posts of supporters on social media, presentation of partners and the broadcasting of sponsor's advertisements.

FIBA certified (level 1 and 2) and easy to use, VIDEOSPORT software has been designed by Bodet Sport teams to control up to 7 different display media: scoreboards, LED video screens, video cubes, perimeter LED screens and TVs in partner's areas.
Intuitive: In a few clicks, creation of a customised display of scores. Customisation according to the sport and game level with the possibility to preview the final result before displaying it on one or several screens.
Efficient: due to automatic broadcasting of media (creation of playlists before the match), live customisation of match animations, presentation of teams, referees and staff (animations created before the match) and immediate broadcasting of videos or media associated with a match action.
Multisport: stadium sports, indoor sports, combat sports, water sports, hockey or ice rink sports, VIDEOSPORT manages the score and animation display of more than 15 sports.
Multimedia creation and broadcasting
Record of advertisements' running times
VIDEOMEDIA

, the software suite dedicated to multimedia display for promoting partner's advertisements

Developed with Bodet Sport experts, VIDEOMEDIA software solution allows you to broadcast logos, photos and advertising videos of partners and sponsors of sporting events. On perimeter LED screens, both indoors and outdoors, the running time of playlists created with VIDEOMEDIA is recorded in order to account for and optimise the profitability of advertising revenue regardless of the game level of your club.
Customisable: creation and broadcasting of videos, images, text messages and advertisements with the possibility to save playlists for further use.
Configurable: possibility to create several animations and different playlists of highlights specific to each sport event: before match, half-time, time-outs, individual foul, goal...
Economical: due to the exploitation of the running time of each advertisement, VIDEOMEDIA optimises the profitability of the advertising revenue according to the advertiser's budget.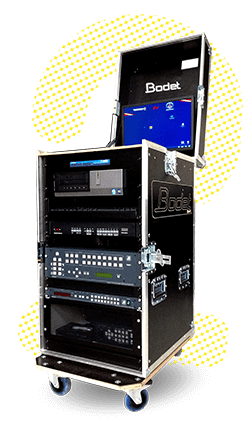 The video control system, the comprehensive solution for controlling your video and sports display
The video control system is made up of a computer, a video processor and an interface with the scoring system. The set is placed in a flight case for easy movement across the room or installed in the video control room.
Customised for each project, our design office help you find the solution most adapted to your needs.
Bodet Sport developed 3 types of video control systems meeting the needs of all facilities.
Portable video control system for advertising
The portable video control system features a mobile and practical solution for managing your video spaces dedicated to adversing. The portable video control system for advertising allows control of 1 or 2 screens simultaneously.
Compatible with the VIDEOMEDIA software, you can access all the features of the software for displaying your advertisements.
Portable video control system for management of scoring and advertisement
Your all-in-one solution dedicated to score but also advertising display. The portable video control system for management of scoring and advertisement allows you to install the VIDEOMEDIA and VIDEOSPORT software. This solution combines sports and advertising display, all in a compact solution.
Standard video control system
This model meets the needs of medium-sized to large facilities. The standard video control system is dedicated to advertising and score display. Up to 7 video signals can be controlled with an optional card.
Several additional options are available: switch grid, additional video processor.
The standard video control system is available as a flight case rack or as separate units. It also comes with a UPS in order to preserve the display and data even if the power supply is accidentally cut off. This product is suitable for the VIDEOMEDIA and VIDEOSPORT software developed by Bodet Sport.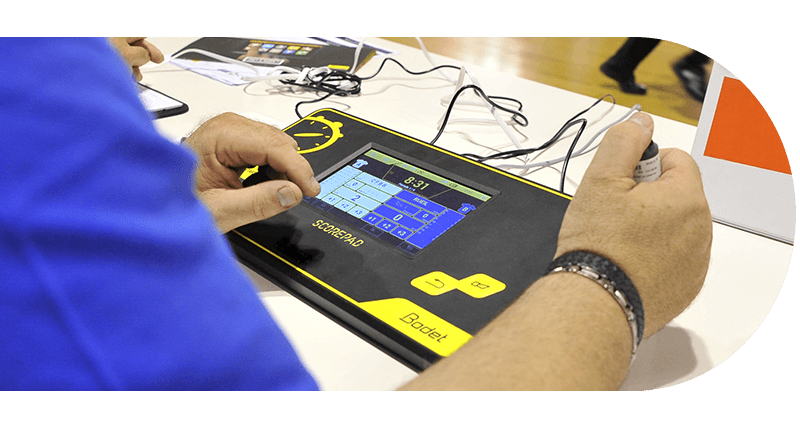 Control keyboards for managing scores display and your video screens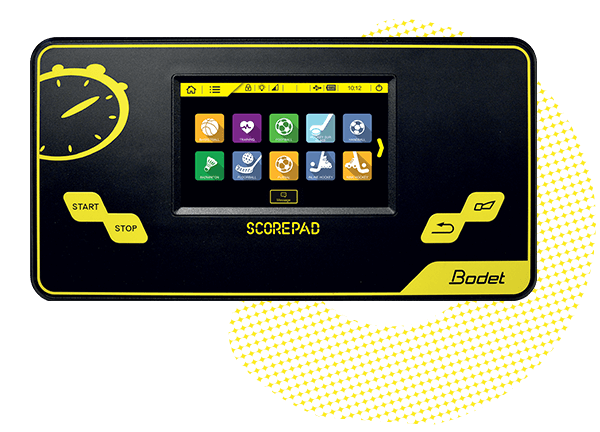 Intuitive touch screen
Can be connected to all display media
40 integrated sports!
SCOREPAD

, the scoring control solution suitable for all display media: scoreboards, TV screen, video screens and video cubes

Controlling the timer, scores, adding fouls, points by player, time-outs, customising teams... SCOREPAD is the scoring control keyboard which manages and displays all game information in real time, regardless of the display media: scoreboards, video screens, video cubes and TV screen (HDMI cable).
Touch screen and intuitive: with its ergonomic icons and large capacitive screen, the current match is displayed with a few clicks.
Customisable: its display adapts to the chosen sport, to the video screen to which it is connected and the user's preferences.
Plug & Play: from the smallest sports facility to the most complete structures (stadium, arena) and for all levels, SCOREPAD can be connected to all display media due to its comprehensive connectivity, not to mention its wireless communication with Bodet Sport scoreboards.
Multisport: indoor team sports, outdoor team sports, racket sports, combat sports, ice rinks or water sports and much more! The SCOREPAD control keyboard integrates more than 40 sports.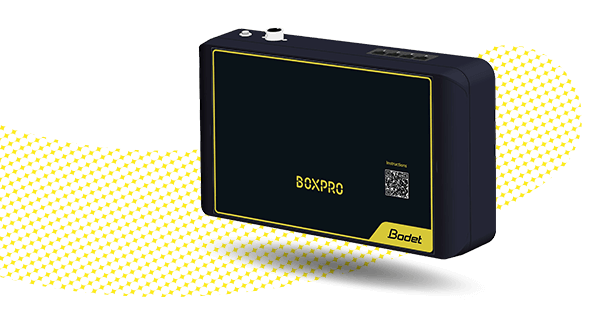 BOXPRO

, your solution for protocol management and data exchange with

SCOREPAD

BOXPRO meets your needs to send data from your sporting events. Connected to the SCOREPAD keyboard, the BOXPRO sends your match data in the desired format for TV broadcasting.

With BOXPRO from Bodet Sport, it is also possible to connect the SCOREPAD keyboard to the Euroleague match control system (EBstat PC). The TV protocol can be duplicated to be retrieved by several different devices.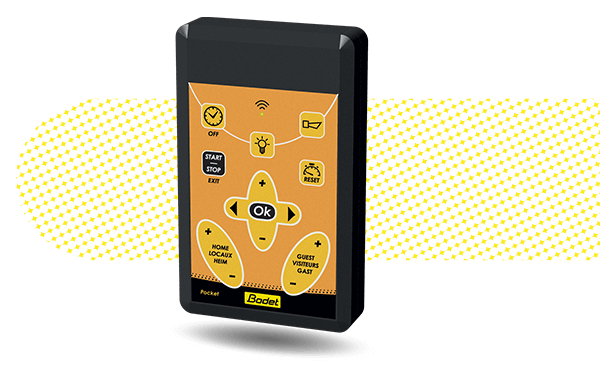 The POCKET keyboard, the solution for managing your scoreboards at your fingertips
The POCKET keyboard allows you to control the 2000 and BTX6015 range of outdoor scoreboards. Easy to use, this multisport keyboard is compatible with the following sports: beach soccer, beach volleyball, basque pelota, football and rugby.
A wide range of accessories and additional keyboards to meet all needs
Your facility or your sport requires specific scoring configuration. To complete the offer, Bodet Sport offers the possession keyboard and the Xtrem keyboard.
Possession keyboard
Possession keyboards allow management of possession time during your sporting events.
It is used in sports such as basketball, 3x3 basketball or rink hockey, korfball and water polo. It is available as a standalone version or connected to the SCOREPAD.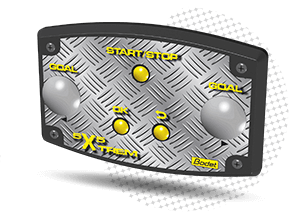 Xtrem keyboard
The Xtrem keyboard has been specially designed to withstand impacts and the rough handling of the buttons during a match.
Its steel casing and reinforced scoring buttons makes this product withstand violent impacts for a stress-free sport practice. It is exclusively dedicated to the BTX6015 scoreboard and is compatible with the following sports: futsal, five-a-side football, multisport.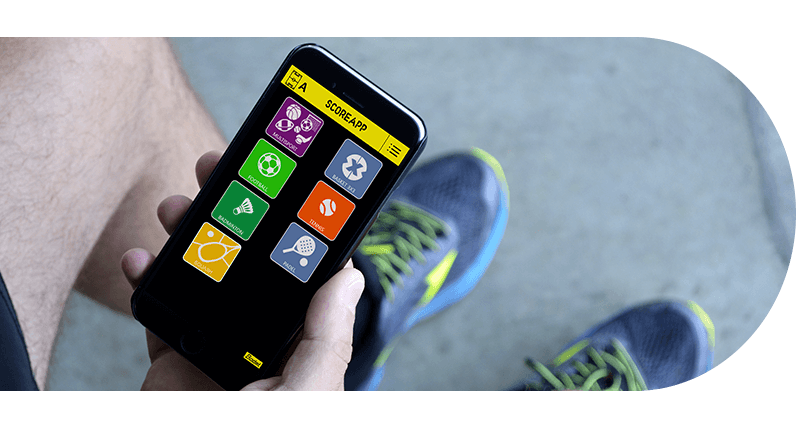 Mobile applications for more functionality and ease of use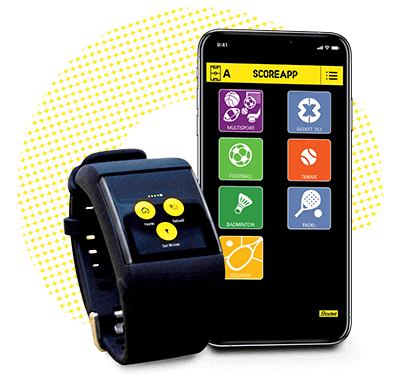 Smartphones and smartwatches
Broadcasting on multiple display media via a box
7 integrated sports
SCOREAPP

: the self-refereeing solution on scoreboards, TV and video screens using a smartphone or a smartwatch

Managing the timer and the score from a smartphone and a smartwatch is now possible! With SCOREAPP, self-refereeing and controlling a scoreboard, a TV or a video screen in real time is accessible to all.

Ideal for amateur practice, friendly encounters and leisure multi-sport facilities, SCOREPAD features a simple self-refereeing solution, accessible to all. The system can coexist with the SCOREPAD keyboards.
7 available sports: 3X3 basketball, football, badminton, padel, squash, tennis or multisports, SCOREAPP is widely used by racket sports or team sport players such as five-a-side football for its freedom of autonomy. No need for a referee! Players manage the score at their fingertips and display it in real time in the following display media: the Bodet scoreboard, the TV or the video screen of the sports facility.
Display in multiple supports: thanks to its own Wi-Fi connection (no internet connection required) the SCOREAPP box communicates with the smartwatch (or the smartphone) of the player and displays the score of the current match on the Bodet scoreboard, the TV or the video screen of the facility.
Secure and autonomous: once the SCOREAPP box is installed, no intervention is required. Equipped with a smartphone or a smartwatch, players are completely autonomous.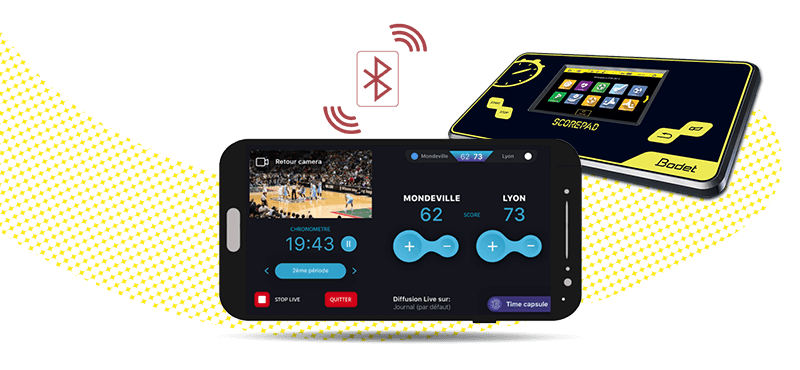 Swish live: live scoring broadcasting on social media
You are filming your match and wish to broadcast it live on social media? The combination of the SWISH LIVE application and the SCOREPAD bluetooth accessory allows you to broadcast live the video and the score of your sporting event from an Android smartphone.
The SWISH LIVE application synchronises the scores and game times generated by the SCOREPAD to send them on a live match broadcast application.
They trust us, why not you?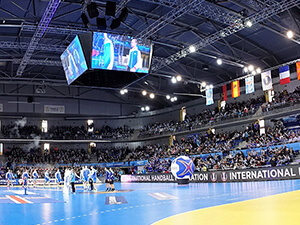 Les Arènes de Metz
Metz
France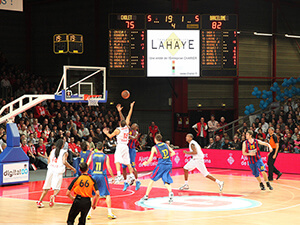 La Meilleraie
Cholet
France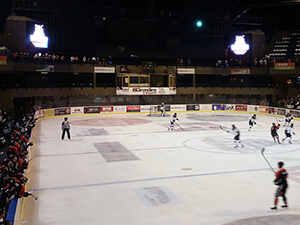 Mériadeck skating rink
Bordeaux
France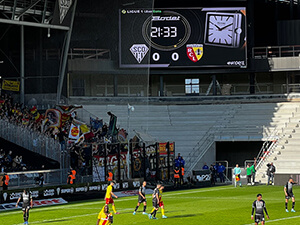 Raymond Kopa Stadium
Angers
France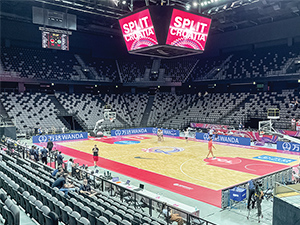 Spaladium Arena
Split
Croatia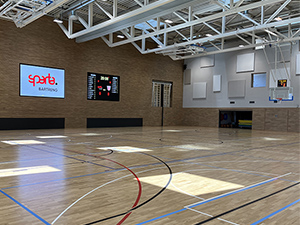 Centre Niki Bettendorf
Bertrange
Luxembourg