LED giant screens, perimeter LED screens, scoreboards: how to efficiently equip a stadium?
Stadiums: use scoring and LED video display to promote your sponsors and enhance supporter experience!
Stadiums and omnisport stadiums are outdoor team sports structures hosting departmental sporting events, regional competitions and high-level championships, as well as players and supporters of many sports: football, american football, rugby, field hockey, and so on. Sports display media such as scoreboards, timers and video screens from Bodet Sport have been designed and manufactured in France to suit any stadium regardless of the sport practised and to resist outdoor climatic conditions.
A budget-friendly scoreboard adapted to the size of your stadium
The diversity of sports practised in stadiums, the different levels of competition as well as the seating capacity of a stadium require a specific scoreboard. Especially designed to resist outdoor climatic conditions, the scoreboards must be seen at longer distances. In order not to miss anything of match actions, these scoreboards are often combined with LED giant screens. To promote sponsors and partners, there is nothing better than displaying their video advertisement on a perimeter LED screen.
Example of a sports display solution installation in a stadium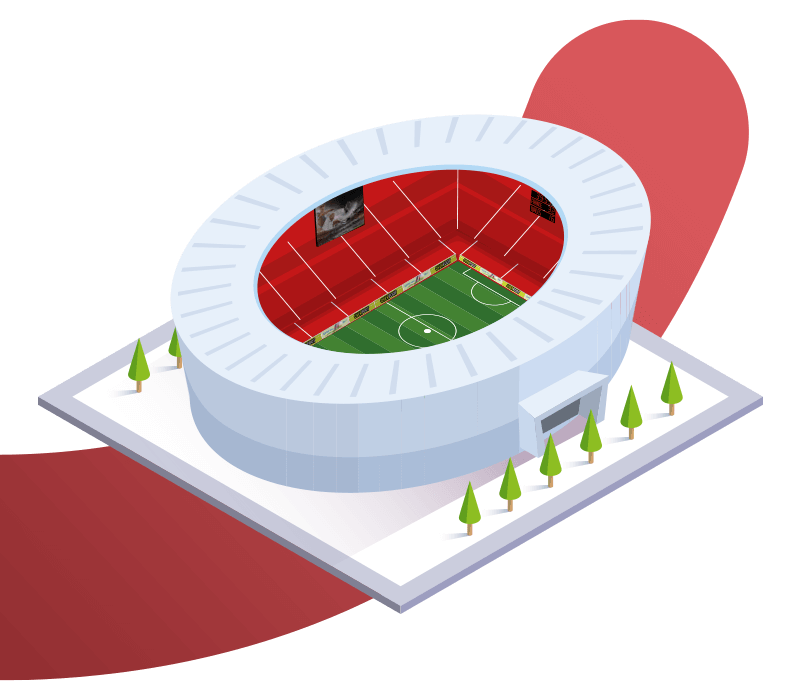 A sports display for all levels of competition in a stadium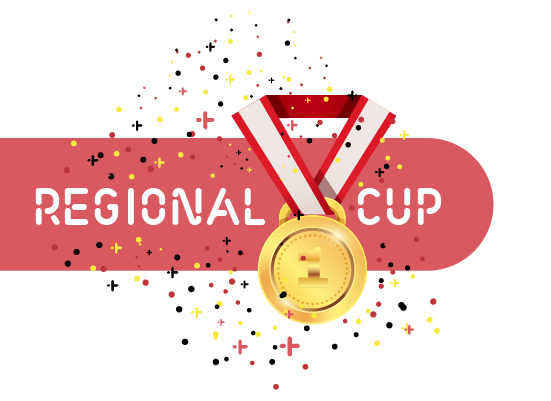 Multi-sport scoreboards for amateur and departmental matches
The 2025 is a basic scoreboard especially designed to be installed in omnisport stadiums and large outdoor sports fields where football and rugby are practised. It is also perfect for beach sports such as beach soccer or beach volleyball. With its LED digits of 25 cm height, it offers optimal reading up to 120 m and displays the timer and the score per team. Its alphanumeric version (2025 ALPHA) allows customising team names.
The display of this scoreboard can be remotely controlled by the POCKET keyboard. This light and easy-to-use control keyboard allows management of scores display, starting or stopping the timer, activating the horn for rugby, managing the score by adding or removing 1 point per team. Since this scoreboard has been designed for outdoor use, it is possible to adjust its brightness in order to match the intensity of the sun's rays or at dusk.
Very easy to use, all club members will be able to control the 2025 CLASSIC and 2045 CLASSIC scoreboards. Budget-friendly solutions for smaller clubs.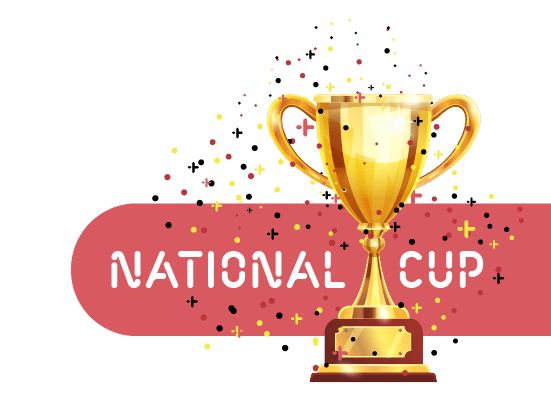 Multi-sport scoreboards for regional and national matches
Intended for stadiums hosting regional and national competitions, the 2045 electronic scoreboard is suited to the practice of football and rugby. Designed to be installed in an outdoor environment, it displays the timer and the score per team. Its alpha version (2045 ALPHA) allows customising team names. To ensure perfect readability of the display regardless of the sun conditions and the moment of the day, the light intensity of this scoreboard can be adjusted. Thanks to the height of its digits (45 cm) the information displayed can be read up to 200 m away. In order to complete an installation, we suggest a changing room repeater and a player substitution board.
Combined with the POCKET keyboard, the display of the 2045 CLASSIC scoreboard becomes very easy. Match officials will be able to control the scores display, the timer management, the reset of the timer, the assignment of time-outs, the +1 and -1 points per team, the horn for rugby and the luminosity of the scoreboard at their fingertips.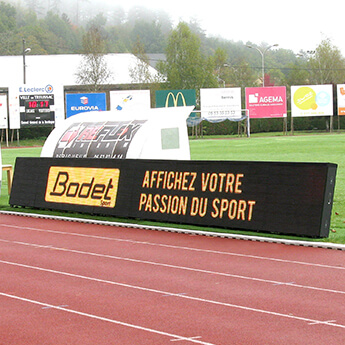 Video solutions for omnisport stadiums designed for clubs with tight budgets
The ready-to-use video packages from Bodet Sport display advertisements as well as partners' and sponsors' logos. Designed for clubs, they generally include standalone perimeter LED screens or video screens combined with a scoreboard. As this is an attractive, dynamic and adjustable solution, investing in a LED perimeter is the guarantee to promote the partners of an event. In addition to increasing sponsors' visibility, investing in this type of display medium quickly pays for itself as it allows clubs to generate income by the sale of advertising spaces.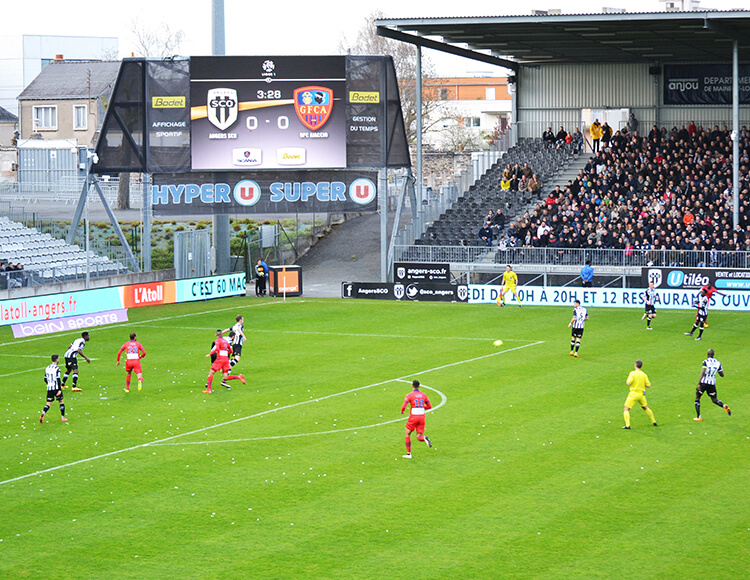 Giant screens to digitise high-level matches in a stadium
In a stadium, the distance between one side of the pitch and the other is... quite long! So as not to miss anything of the match, it is necessary to see the big picture!
To help players and supporters in the stands experience unforgettable moments, using video display has become essential. Zoom into game action, score display, match information, players presentation, everything is now possible with LED video screens. To complete the installation and promote sponsors' advertisements, there is nothing more gratifying than using perimeter LED screens.
To simultaneously manage the display of scoreboards, giant screens as well as advertising graphics, opt for the VIDEOSPORT and VIDEOMEDIA software. Complete, customisable and intuitive, these Bodet Sport software make it easy to manage the video display regardless of the location of the screens on the site: field, press reception, VIP room, changing rooms...
They trust us, why not you?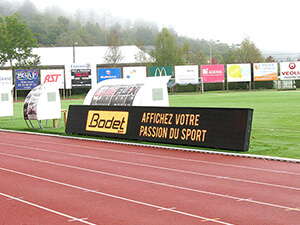 Firmin Daudou Stadium
Trelissac
France
Henri Cazenave Stadium
Orthez
France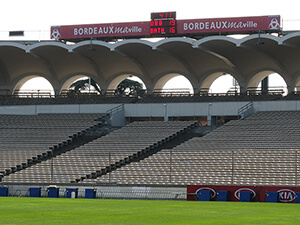 Chaban-Delmas Stadium
Bordeaux
France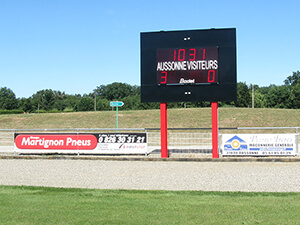 Aussonne Sports complex
Aussonne
France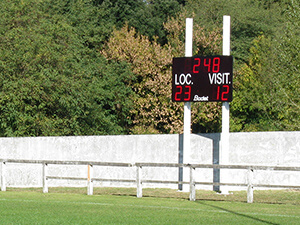 Piquesarry Stadium
Boucau
France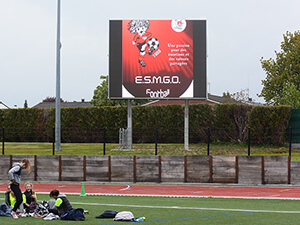 Maurice-Bacquet Stadium
Gonfreville
France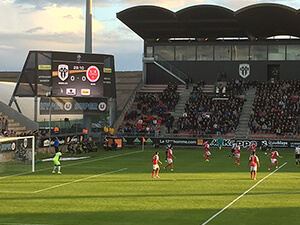 Raymond Kopa Stadium
Angers
France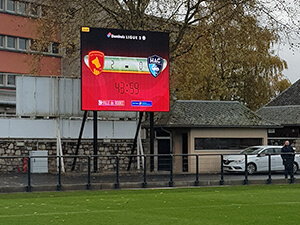 Paul-Lignon Stadium
Rodez
France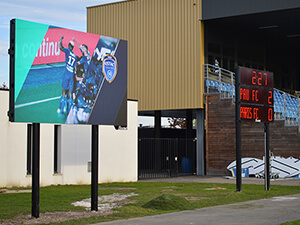 Nouste Camp
Pau
France