Which video solutions to choose to make sporting events more dynamic?
Video solutions integrated into the sports display of facilities
Give spectators a unique experience with the different Bodet Sport video solutions. LED video screen, perimeter LED screens, video cubes and scoreboards with built-in video screen: each sports facility can have its own video screen in order to galvanise games and promote partners' advertisements. From the arena to the sports hall, you can customise your dynamic display and animate your sporting events. With more than 10 years of experience in the video market, Bodet Sport offers turnkey solutions, from quotation to completion.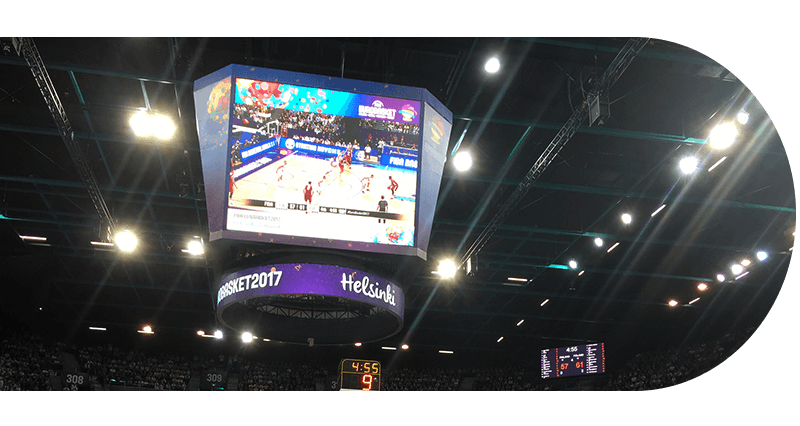 How to broadcast advertising videos during sporting events?
The LED video screen for promoting sponsors and game scores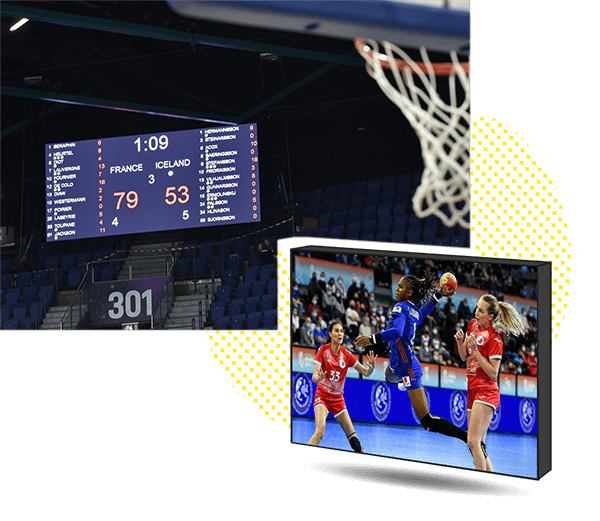 The video screens from Bodet Sport adapt perfectly to the budget of clubs, depending on the equipment of their facility and the level of competition. These LED video screens are modular and customisable.
Alone or combined with a scoreboard, the modules are fixed on a metal structure, carried out in Bodet workshops. Whether hung on the wall or suspended, this combination of modules makes it possible to create screens of any size, both for indoor and outdoor use.
These video screens fit into all sports facilities and are ideal to promote financial partners and generate advertising revenue. Available with different levels of definition, LED video screens give a new dimension to your facilities.
Flexibility: Assemble modules next to each other in order to create a screen that adapts to the size of your facility
Customisation: The different module formats allow the creation of screens with a customised shape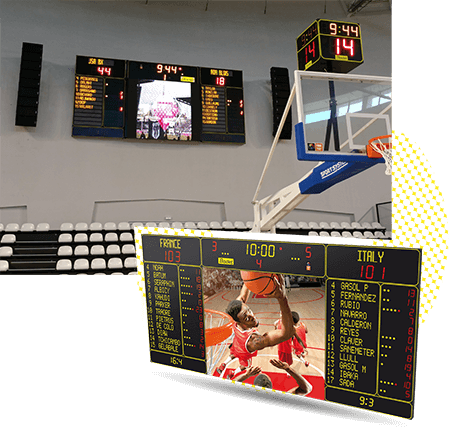 The comprehensive video and sports display solution: scoreboards with built-in video screen
Displaying your game data
The scoreboards can combine with LED video screens. The video screen can be integrated into an existing scoreboard, or installed at the same time as your new scoreboard. Much more than a simple scoreboard, it also allows the display of all game data (points, times, possession…) and also time outs and game actions.
Promoting your partners
An all-in-one display for scoring but also for broadcasting sponsor's advertisements. Our scoreboards with built-in video screen allow shining the spotlight on your partners as well as making your sporting events more dynamic.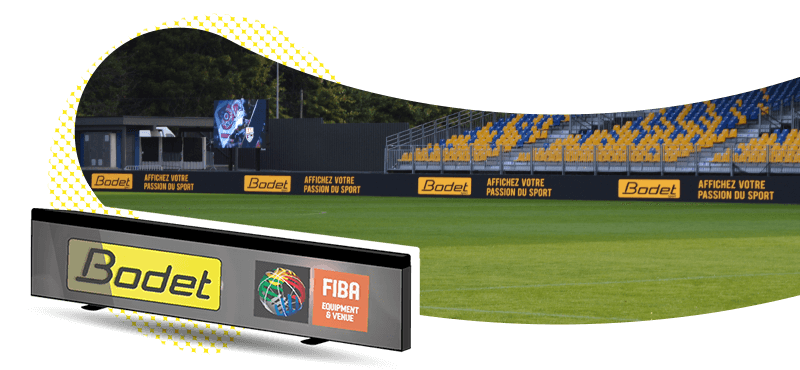 Broadcasting advertisements using perimeter LED screens
The perimeter LED screen is a tailor-made and turnkey solution for animating and broadcasting advertisements on your fields. Perimeter LED screens broadcast animations as well as sponsor's logos and videos, whether on a few modules or all of them. These hermetic modules both for indoor or outdoor use are placed along the pitch and are equipped with protective foam for the players. Built-in flexible feet make storage easier.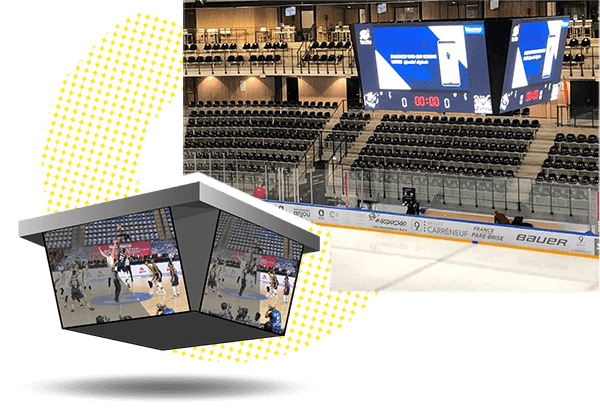 Ensuring optimal visibility with the video cube
Ideally suited to indoor sports facilities with a large capacity such as arenas, the video cube offers a spectacular experience for your spectators. The 4 sides of the cube with its LED video screens can be tilted for better visibility. Match highlights are broadcast live due to a camera being placed below the cube, showing an image of the field or the audience on the screens.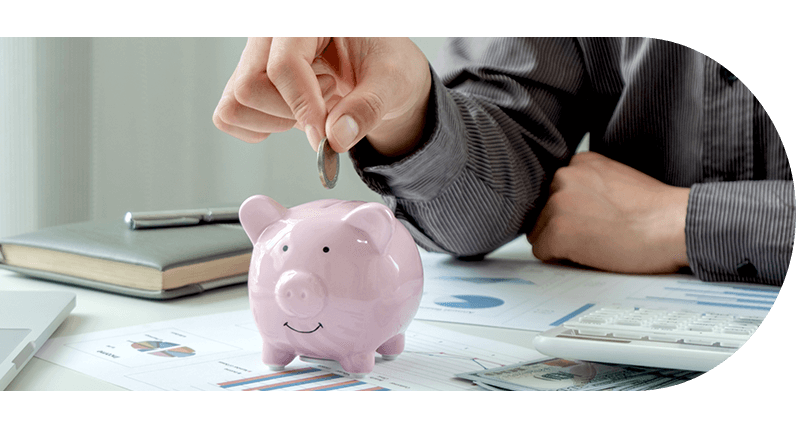 The video solution as an investment to boost your partnerships and your facility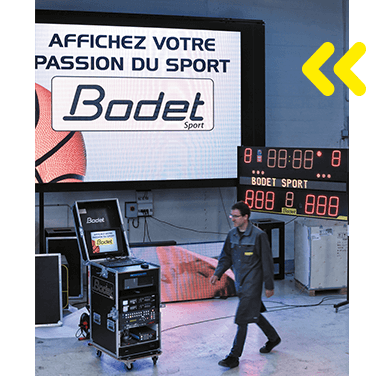 Promoting partners using a video solution
Bodet Sport video solutions shine the spotlight on your partners. They offer variety and customisation of advertising spaces. They also allow to optimise the visibility as well as better manage your different partnership contracts using the display management software: VIDEOMEDIA.
Your sports facility becomes a true promotion platform for partners.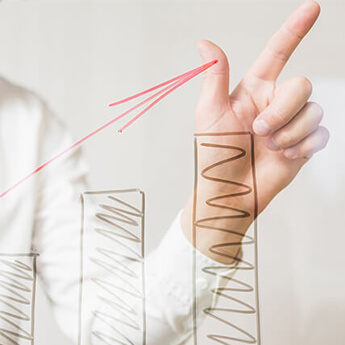 Developing advertising revenues with video display
LED video screens, video cubes and perimeter LED screens are all display media made to attract new advertisers. The impact of advertisements is increasing, and you can benefit from a real added value for promoting sponsors. You can establish your offer and choose the modalities of distribution of your partner's advertisements (time, period, rates...). As such, you can generate advertising revenues representing an additional and regular source of income for your club.
It is a win-win situation!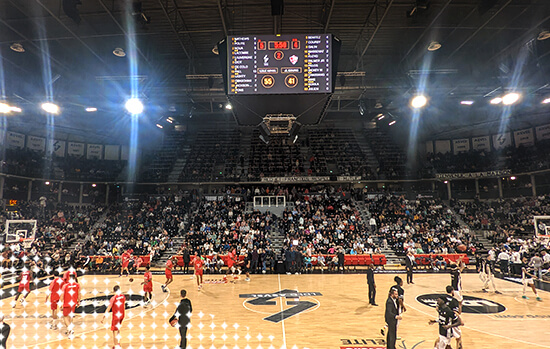 Video for branding purposes
The brand image of your club
The video display is a solution which reflects the modernity and the dynamism of a facility. Video screens help to promote the brand image of clubs to the general public.
The brand image of your sponsors
Beyond the simple poster insert or the classic banner, the video display allows you to draw the attention of the spectators. It attracts the gaze, thus shining the spotlight on your partners. Your sponsors are associated with a modern and dynamic facility.
The video display solutions from Bodet Sport
They trust us, why not you?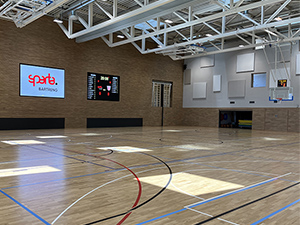 Niki Bettendorf sports centre
Bertrange
Luxembourg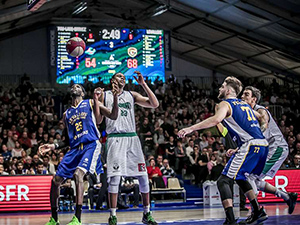 Disneyland Events
Paris
France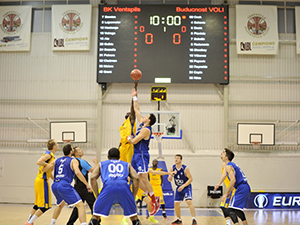 Olimpiskais centrs
Ventspils
Latvia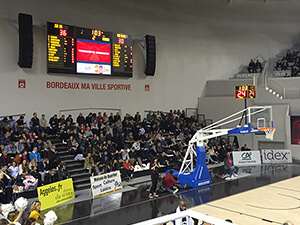 Sports centre
Bordeaux
France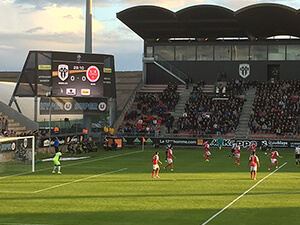 Raymond Kopa Stadium
Angers
France