Stopwatches and clocks for indoor and outdoor sports
Time information for sports facilities
Sports facilities hosting public events require time display for information purposes and to follow events. Whether on the field or in the changing rooms, time is an essential element to be displayed in a public facility and during timed competitions. Bodet Time clocks and stopwatches allow you to complete your sports display offer with time information.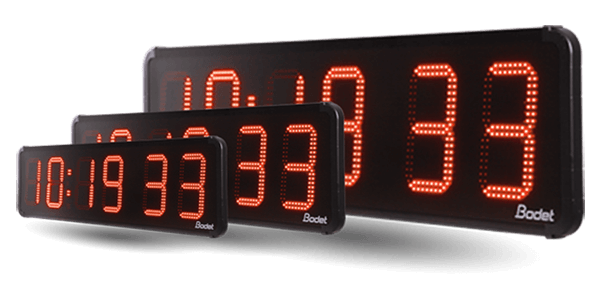 Time display during competitions
Some sports such as running or cycling require a large sports display suitable for outdoor climatic conditions. The clocks used in this type of competitions are often accurate digital stopwatches that can be controlled remotely.
The range of HMS LED digital clocks offers 3 digits heights for sports display and timing: 15, 25 and 45 cm. Ensuring a visibility from 60 to 200 metres, the HMS LED clocks are ideal for following competitions where time and timing are an integral part of scoring.
The HMS LED clocks allow hours, minutes and seconds display and can alternate with date and temperature. Setting up is easy and can be carried out remotely if the clock is placed high up, on wall, ceiling or mast mounted brackets (starting or finishing arches). A remote control can be used to control the clock once installed. The size of these clocks gives them a quick readability. It is possible to choose the colour of LEDs (white, red or yellow) to customise your clock to the colours of your club.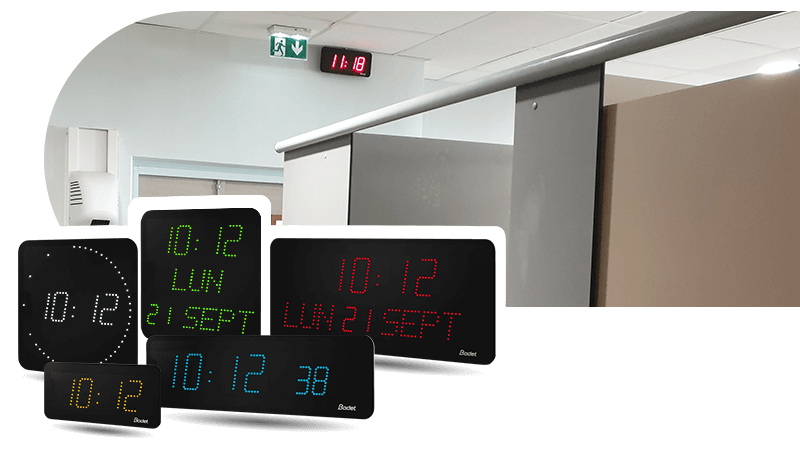 Clocks for time display in sports facilities
Time display within sports clubs can be found in several strategic places. Be it on indoor facilities for ensuring correct training follow-up, or in changing rooms for keeping an eye on the time left before the beginning of the match, clocks find their place within sports facilities.
Like any administration, offices of sports complexes need to keep time under control for all employees of the facility. In crowded areas or meeting spaces, the Style indoor clock allows time, minutes, date, as well as week number and temperature display. This information can be displayed alternatively in sports facilities.
You can choose the LED colour between 5 different colours: green, yellow, blue, red or white. An additional customisation available in order to match with the branding of your premises.
More information about the STYLE range Discover other clock models