Indoor and outdoor scoreboards
Scoreboards meeting all needs
Both for indoor and outdoor use, Bodet Sport scoreboards withstand demanding environments, ball impacts as well as extreme climate conditions. With a large range of products, Bodet Sport scoreboards meet the needs of all sports facilities while offering modern and proven solutions.
Tailor-made scoreboards: the strong point of Bodet Sport
Each project is unique. Our offer of scoreboards meets the needs of sports facilities of all sizes. From the sports hall to the arena, Bodet Sport offers a tailor-made solution. A wide range of scoreboards is available for you to choose from. Our scoreboards are modular and can evolve with your budget.
Your facility is developing? It is possible to add customisable modules to your existing scoreboard to show player fouls and penalties, or video modules to broadcast advertisements.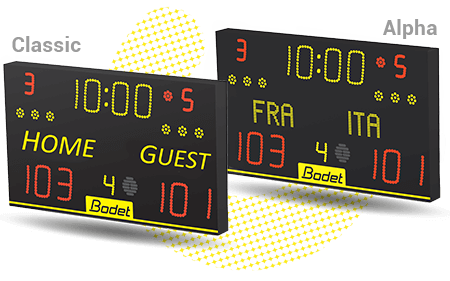 Find the solutions best suited to your budget and your sports facility: our scoreboards have an Alpha and Classic version for customising the display of teams.
Classic: a "loc/visit" sticker is placed on the scoreboard
Alpha: an alphanumerical LED display allows displaying messages or indicating team names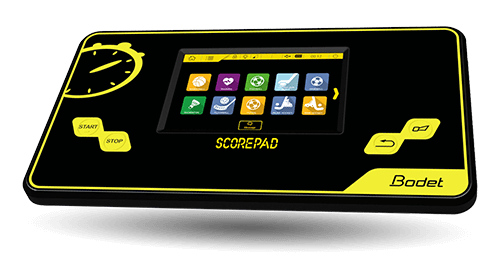 SCOREPAD

, an easy and efficient product for displaying game information in real time

SCOREPAD is a touch screen keyboard for controlling the display of scoreboards. This Bodet Sport innovative product allows you to manage more than 40 sports of all levels of competition. As such, the scores display is compliant with sports regulations.
8000 range: scoreboards for multi-sports halls
The innovation at the heart of scoreboard development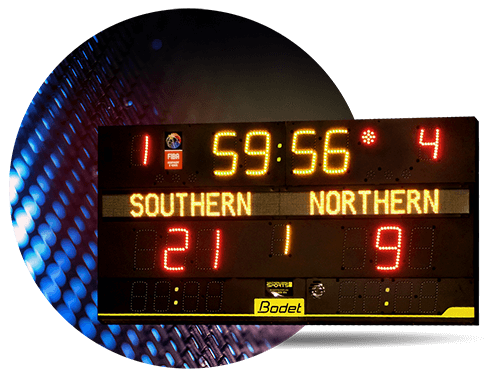 The performance at the service of sports facilities
Bodet Sport scoreboards use the latest technologies for providing optimal readability of the information for the public and the players. The R&D teams are working in order to provide ever more efficient and energy-sufficient scoreboards.
Our scoreboards have LEDs, thus providing reduced electrical consumption. The digits of indoor scoreboards have been designed with a single row of LEDs, thus reducing the consumption while maintaining optimal readability of game information.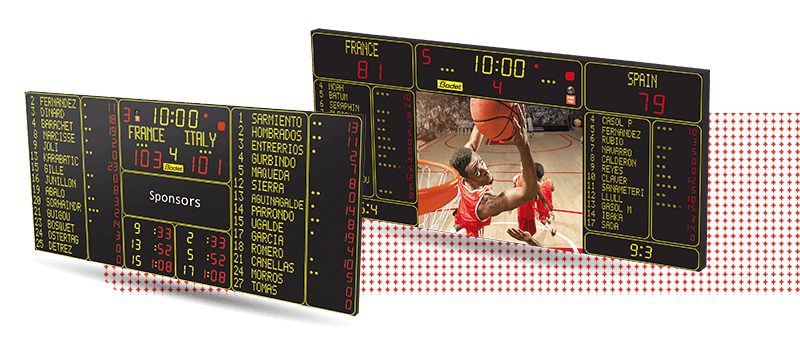 Bodet Sport, partner of high-level display
Bodet Sport scoreboards can be customised and are made up of many additional modules in order to comply with sports regulations. They are FFBB and FIBA level 1 and 2 approved and can be used for national and international matches.
For high-level matches with public audiences, scoreboards from the 6730 range with built-in video screen allow you to broadcast advertisements, animations, or match highlights.
A tested and approved resistance to ball impacts
Scoreboards can be severely damaged. Resistance to ball impacts depends on the quality of the construction and the materials used for manufacturing the scoreboard.
All ranges of Bodet Sport scoreboards have been tested for ensuring their robustness and resistance with a shockproof design (IK07).
Our scoreboards have been tested by an independent laboratory and comply with the DIN 18.032 standard for ball impact resistance requested by sports federations. Scoreboards are subjected to tests according to ball types, shot speeds, and so on.
It is also important to take into account the quality of the wall or suspended mounting of the scoreboard. This is why Bodet Sport studies the mounting structures in order to obtain an optimal quality of support regardless of playing conditions.
Scoreboards for outdoor use and specific conditions
A sports display withstanding all climatic conditions
Outdoor scoreboards have been designed to operate in difficult climate conditions such as extremely low or high temperatures. Rain, snow, wind, heat waves and other climatic conditions are aspects to be taken into account for ensuring the durability of your outdoor scoreboards.
Often used in stadiums hosting football, rugby or other outdoor sports games, these scoreboards must display reliable information in real time, even under difficult conditions.
The scoreboards from the 2025 and 2045 range are dedicated to outdoor sports display and are powered by an external power supply or by solar power. They can be programmed to display specific information such as the score, the timer, the time and the temperature.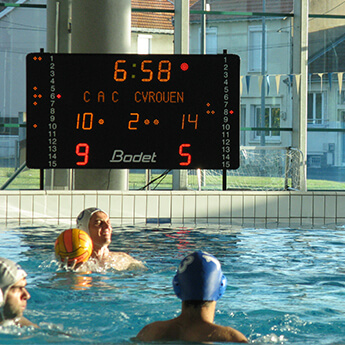 Skating rinks and pools: how to manage the display in an indoor environment with specific conditions?
Sports display is a key element in managing many sporting events, including in skating rinks and pools. Scoreboards must withstand cold, heat and humidity.
In skating rinks, scoreboards can be suspended over the ice or attached to the wall in order to provide a clear and unobstructed view of important information. They are made from materials developed to withstand the wet conditions of skating rinks. Bodet Sport scoreboards come with tropicalised boards and hermetic casings suitable for the specific indoor conditions of skating rinks and pools. Scoreboards from the BTX6000 range are dedicated to display in specific environments.
The BTX range of scoreboards for demanding environments
Bodet Sport: made in France quality and know-how
More than 50 years of expertise
The local production and our expertise in the manufacture of sports equipment ensures a quick response time to orders.
Quality requirement
Bodet Sport commits to maintain high standards of quality (ISO 9001 and ISO 14000), sustainability and security for its products.
Product warranty
Bodet Sport uses the latest technologies to guarantee optimal performance. The scoreboards have a two-year warranty.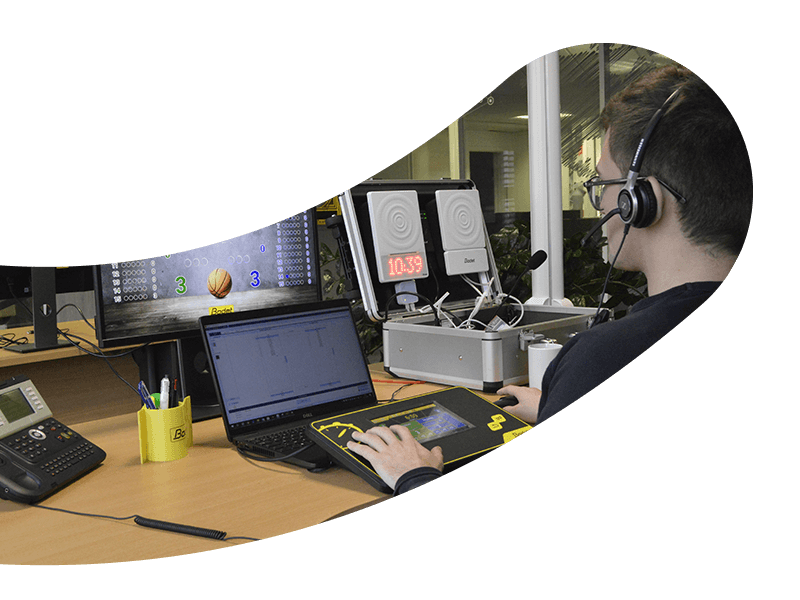 Bodet Sport customer support and follow-up
Customer follow-up and support are provided right from the start of the collaboration with a study of the project, the specific manufacture of the supports and assistance in choosing the sports display solutions best suited to your facility.
With its team of sales forces both in France and abroad, Bodet Sport can help you from the concept of your project to its achievement and follow-up.
A team of specialised advisors and technicians will come to your facility and assist you throughout the installation to make sure your equipment is operational. Bodet Sport offers user training as well as customised assistance to guarantee optimal follow-up of your installations.
In addition to providing a range of quality products, Bodet Sport offers dedicated customer service, with a technical support and available assistance to meet the needs of its customers both in France and worldwide. With its long-standing expertise and presence in the sport industry, Bodet Sport is a reliable choice for your sporting equipment.