A scoreboard dedicated to professional water polo
BTX6220 ALPHA WP indoor and outdoor scoreboard
This scoreboard has been specifically designed for high-level water polo thanks to its comprehensive display including: the timer, scores, the period number, penalty countdowns, individual fouls and customisable team names.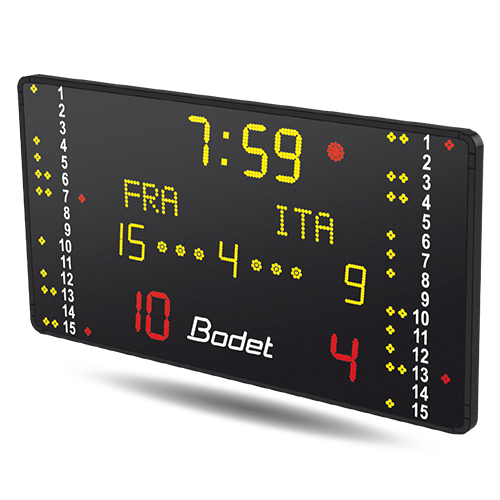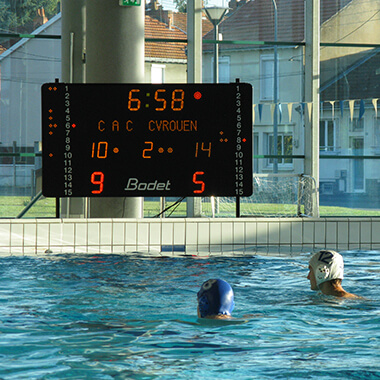 A display for professional clubs
The BTX6220 ALPHA WP scoreboard displays all water polo match information for national competitions: scores, penalties and individual fouls. It also comes with a powerful horn of 100 dB to announce time-outs called by the teams as well as the end of game periods.
Perfectly suited to high-level sports, this scoreboard also offers the possibility to customise the display with the name of each team. For competitions, the BTX6220 ALPHA WP is combined with 2 BTX6002 possession displays.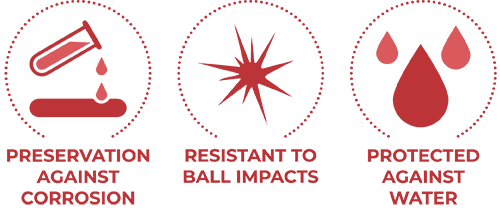 Designed for pools
The BTX6220 ALPHA WP can be used outdoors and in humid and corrosive environments such as swimming pools. Made to last, this scoreboard withstands conditions of aquatic environments: water splashes, high temperature, corrosion (IP44 protection index). Its internal electronics are provided with a tropicalisation resin to withstand ambient humidity.
Download the brochure
Product benefits
Manufactured in France
Scoreboard manufactured in Trémentines (France) in an ISO 14001 certified production site due to its good environmental performance.
Sustainable
Scoreboard guaranteed for 2 years by Bodet and spare parts available more than 10 years after the end of marketing.
Compliant with sports regulations
Scoreboard designed with a shockproof protection (DIN standard 18032).
Scoreboard compatibility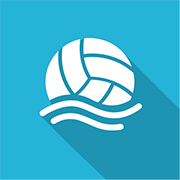 Water polo
Technical information
Information displayed: Game time - hour, dot stop timer, scores, period number, penalty time countdown (20 seconds), time-out indicator, end of period indicator, individual fouls, customisable team names
Dimensions: L2080 x H1129 x D122 mm
Weight: 70 kg
Digit height: 20 cm
Letter height: 10 cm
Reading angle: 160°
Optimal reading distance: 90 metres
Environment: Indoor and outdoor
Horn: Integrated (100 dB at 1 metre)
Communication: Wired or HF radio
Mounting options: Wall or suspended
Power supply: Mains supply 230 V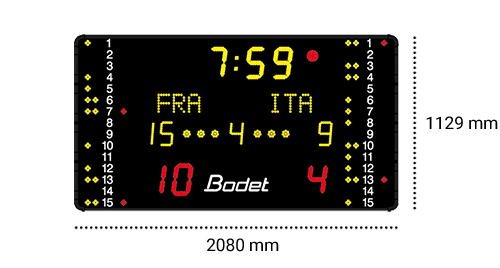 Accessories
You wish to receive a price offer for the product: BTX6220 ALPHA WP indoor and outdoor scoreboard ?
These products may also interest you