Scoreboards, touch screen keyboard, video broadcasting: sports display for water polo
Which pool sporting equipment to choose for water polo competitions?
Water polo is a aquatic team sport practised both at departmental and international level. Bodet Sport offers solutions dedicated to the pool environment: scoreboards to display scores and match information, a control keyboard to referee water polo matches or LED video screens dedicated to pools in order to improve partner's visibility and display scores.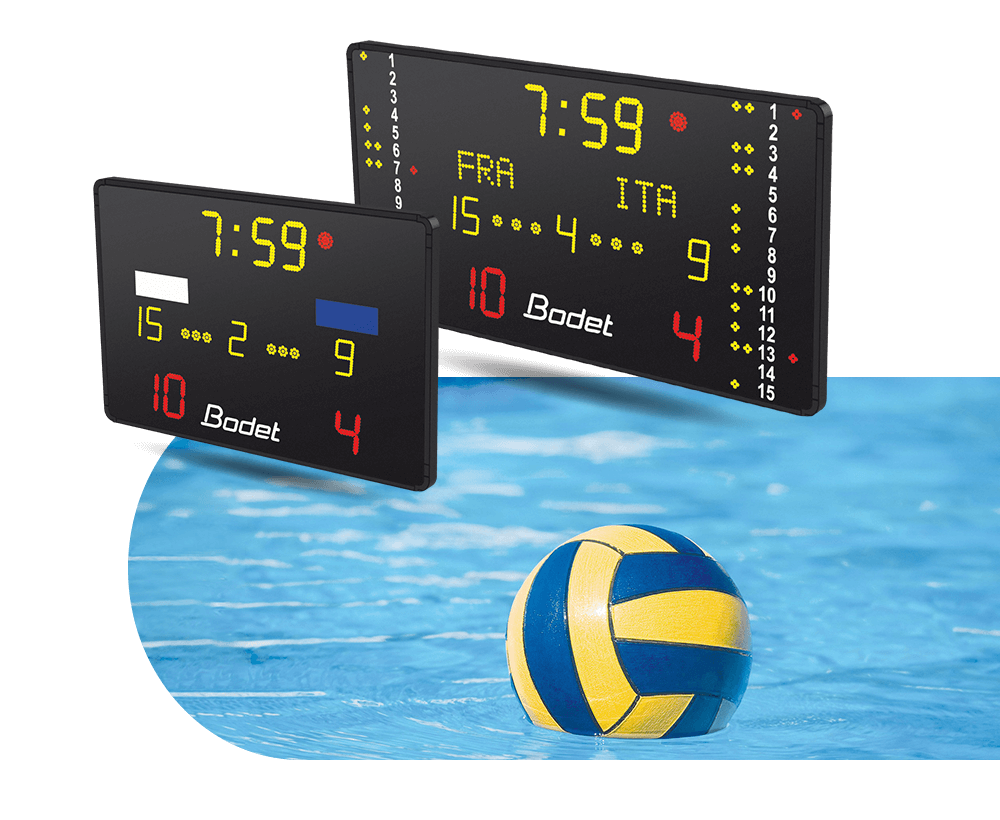 Scoreboards adapted to water polo rules
Especially designed for water polo, the BTX6120 WP scoreboard is perfectly suited to the pool's humid environment. Installed at the edge of the indoor pools, it is perfect for departmental and regional competitions. It displays the minimum information of a water polo match: timer countdown, score, period number, 20-second penalty countdown, time-out indicator and end of period indicator.
The BTX6220 WP scoreboard is complete and perfectly suited to national water polo competitions by visualising individual fouls. Besides displaying all basic information of the BTX6120 WP scoreboard, it offers a customisable display with the name of each team. It also comes with an integrated horn of 90 dB to announce stoppages of play.
The BTX6120 WP and BTX6220 WP scoreboards are both shockproof, thus withstanding all conditions specific to sport pools: water splashes, humidity, corrosion. Made to last, these scoreboards are made of aluminium with a PMMA thermoplastic or polycarbonate front glass. The internal electronics are provided with a protection to withstand the ambient humidity.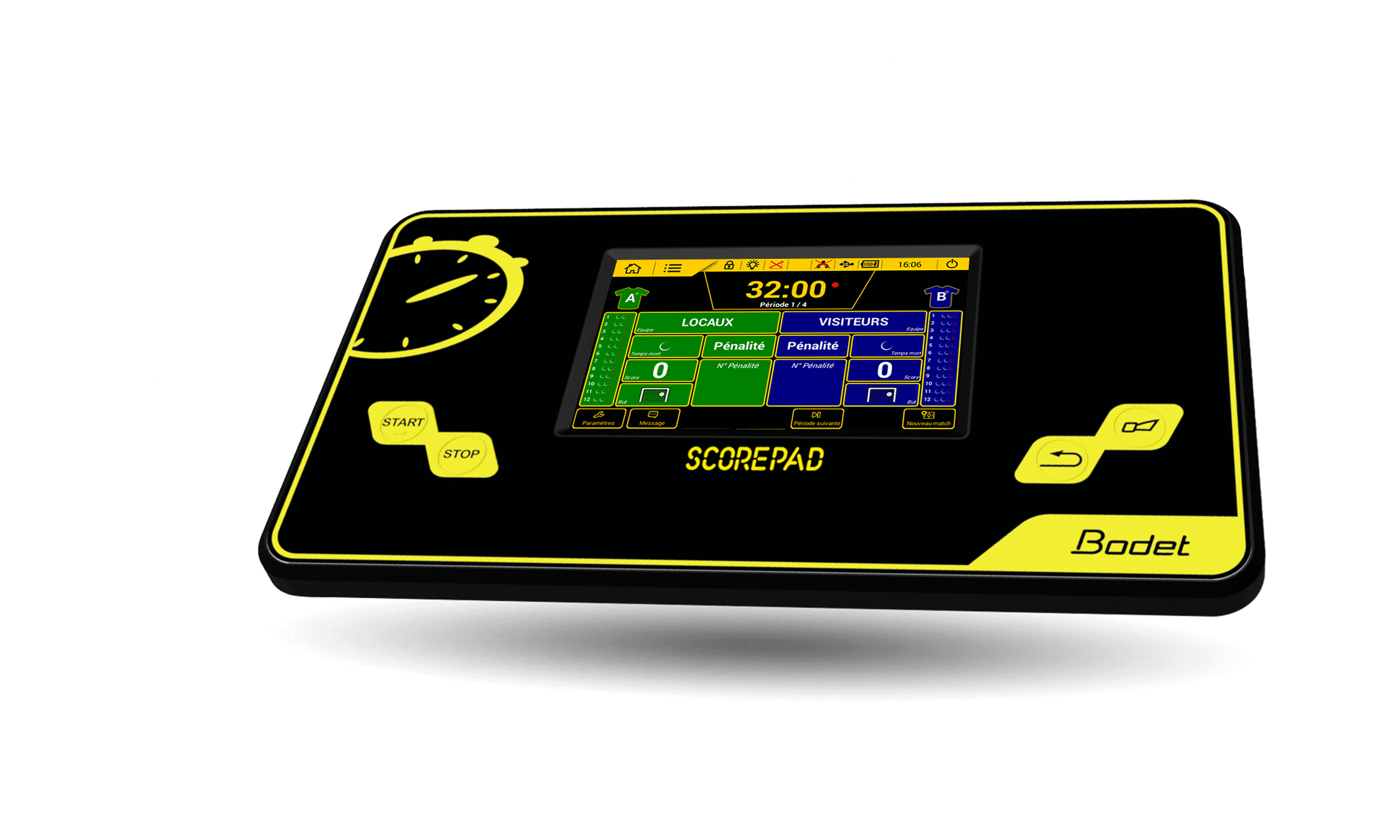 SCOREPAD:

the touch screen control keyboard which easily manages water polo matches

Intuitive and easy to use, the SCOREPAD water polo control keyboard easily manages the BTX6120 WP and BTX6220 WP scoreboards via wired or HF radio communication.

With its program dedicated to water polo, SCOREPAD integrates all official rules of this water sport and allows the start of the 4 periods of 8 minutes, activation of the 2-minute rest for each of these periods or announcing the two stoppages of play of one minute that each team can use.

Besides managing the scoreboards display, SCOREPAD also manages the video display on LED screens.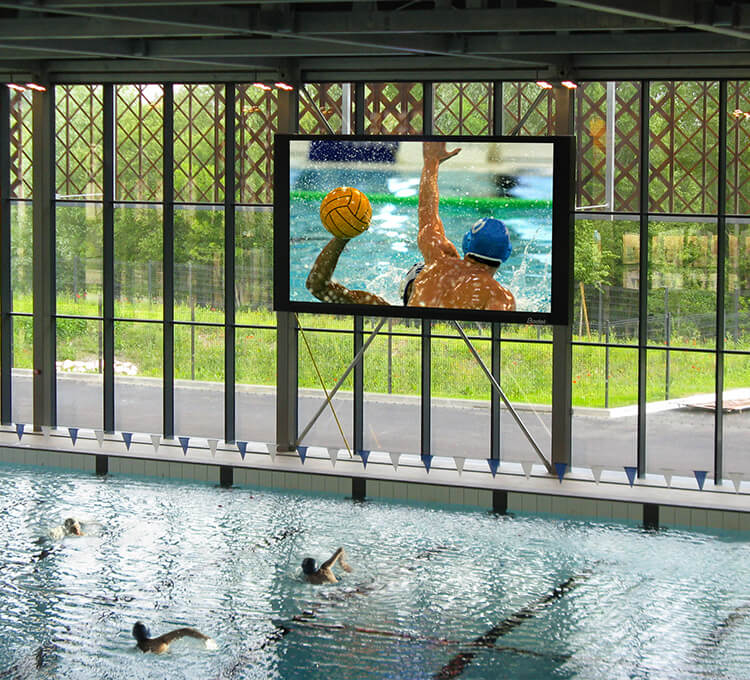 Animating water polo matches using LED video screens for pools
Displaying water polo matches, swimming or synchronised swimming competitions on big screen allows zooming in on game actions. When these matches are being filmed, spectators can experience more intense and captivating sports moments.
Another advantage of the video display is that it allows promotion of the official sponsors of the event. Through the use of advertising in a pool, swimming and water polo clubs can quickly make their video equipment profitable and even generate additional income. In fact, besides displaying scores of water polo matches, the LED video screen allows the sale of advertising spaces to sponsors, partners, or advertisers.
Since pools are special areas, our video display solutions have been designed to withstand the specific conditions of the aquatic environment. They are made to last over time and withstand corrosion, humidity, temperature, and so on.
For simplicity, manage the sports display on the LED screens using our control software (VIDEOSPORT and VIDEOMEDIA) especially designed to animate aquatic sports events and promote the sponsors of your water polo club.
Complete your installation using the possession time display for water polo
Bodet Sport offers the BTX6002 WP possession time display, exclusively designed for water polo.
During water polo matches, the BTX6002 WP possession time display is used to count down the 20 or 30 seconds of the possession time be it for a competition or during a training session. This display comes with a powerful internal horn which emits a sound signal when the 30 seconds of possession are up. Light and easily transportable indoors or outdoors, it can be placed directly on the floor at 2 m from the pool without fearing water splashes since it is provided with an IP54 protection index and a design complying with the NFC 15-100 standard - Volume 1. To optimise sports display, several BTX6002 WP possession time displays can be added. Directly connected to the keyboard with a low voltage power supply, the possession time will be visible on either side of the pool.
It is also possible to complete an installation for water polo with the time-out remote control option.
Bodet Sport products adapted to water polo
They trust us, why not you?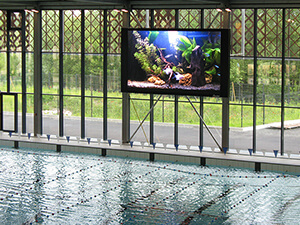 La Calinésie aquatic centre
Libourne
France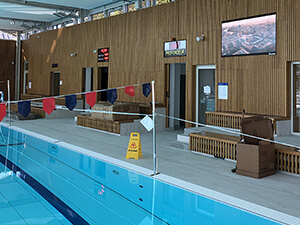 Pré Leroy aquatic centre
Niort
France
Glisseo sports complex
Cholet
France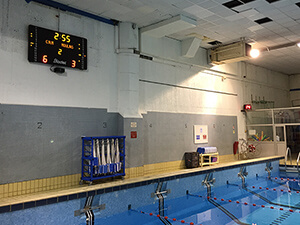 Telemaco Gouin sports complex
Charenton Le Pont
France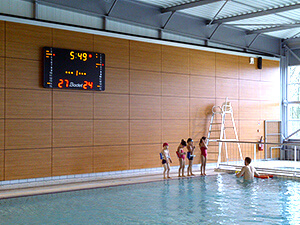 Aqua'Melle pool
Melle
France