Sports display solutions for the practice of all sports
Controlling and displaying scores of sporting events
Whether for basketball, volleyball, football or racket sports, Bodet Sport scoreboards are suitable for practice sessions at clubs. The sports display at clubs is today a strong component of the image sent out. Practical, simple and comprehensive in order to achieve the most demanding levels of competition, our scoreboards, control solutions as well as our accessories are products meeting the needs of your sports facility.
Sports display control, scoreboards and video solutions for indoor team sports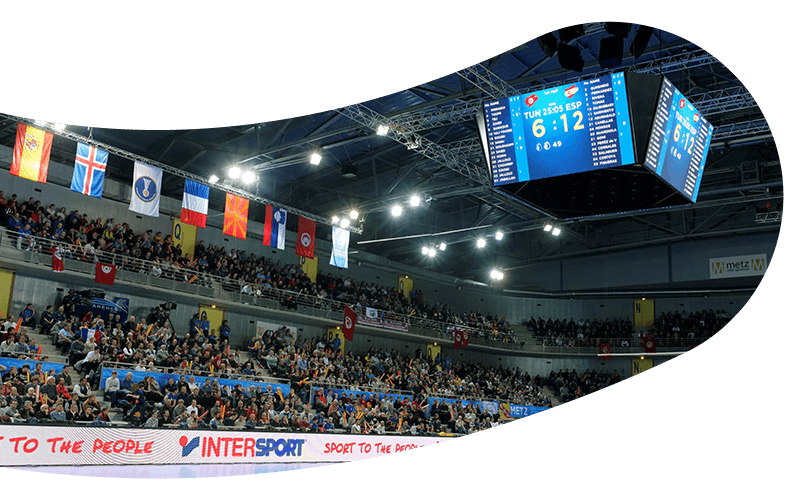 Competitions of indoor team sports such as basketball need game information to be displayed in all types of facilities. The management of scores and time, fouls, and also all specific information such as possession time for basketball or 3x3 basketball are key elements to be displayed for spectators and players.
The different LED video screens can adapt to each facility by customising their format. Control of the sports display on scoreboards or LED video screens is managed by using control solutions such as the SCOREPAD touch screen keyboard or the software: VIDEOSPORT
During high-level competitions of team sports such as handball, you can relive key moments of the match, which are broadcast on LED video screens. In an arena, the video cube enhances the venue and makes a sporting event more dynamic.
Displaying information on screens, broadcasting animations and videos to make key moments of sporting events more dynamic allow animating matches, enhancing the facility and attracting new partners.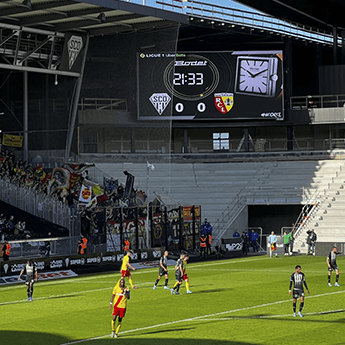 Which sports display solutions to choose for outdoor team sports?
Football or rugby matches take place in sports facilities requiring sports display solutions such as screens or scoreboards with a level of readability adapted to the distance. Scores, game times, fouls as well as match information allow both spectators and players to follow the event. Competitions and federations require a precise level of display and compliance with the regulations in order to host regional or national events.
As such, it is important to choose sports display solutions suitable for the sports facility.
The media coverage of these outdoor team sports competitions provides a prime platform for advertising spaces in sports facilities. Promoting partners during football matches using perimeter LED screens or broadcasting advertisements during an American football match on LED screens makes it possible to make the sports display of clubs profitable and to generate a new source of income.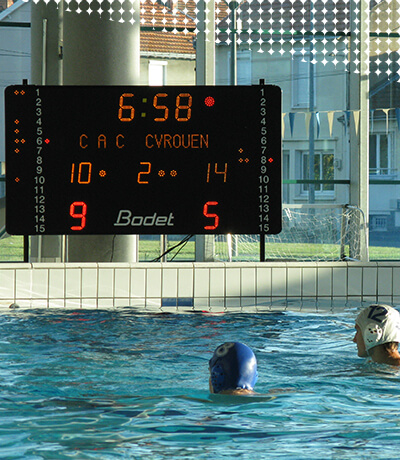 A sports display for sports played in wet and extreme environments
For sports such as swimming, water polo or kayak-polo, we offer specific sports display solutions. Display of possession time or display of ambient air temperature and water is information that is important during training and competitions.
The humidity level of a facility and the temperature are important factors to take into account when installing scoreboards or LED video screens. Ice hockey requires equipment and LED screens withstanding extreme temperatures and corrosion.
These specific conditions are studied in order to offer a range of scoreboards and accessories adapted to the environment of your sports facility. Displaying game information to follow the match, videos on giant screens and video cubes to relive match highlights contribute to animating the sporting events taking place in your facility.
Discover the sports display solutions adapted to each sport