Scoreboards, scoreboards and video support control: stadium equipment dedicated to rugby
How to manage scoring display for rugby union and rugby league?
Rugby union and rugby league both have similarities (tries, penalties and goals) but also some differences such as points scoring. Especially designed for rugby and compliant to the sports regulations of the federations, Bodet Sport solutions allow refereeing, controlling and management of the scores of rugby union or rugby league matches. Not to mention the different video supports (perimeter LED screens, LED video screens) which display match highlights and promote the different clubs' partners.
Rugby scoreboards withstanding all weather conditions and ball impacts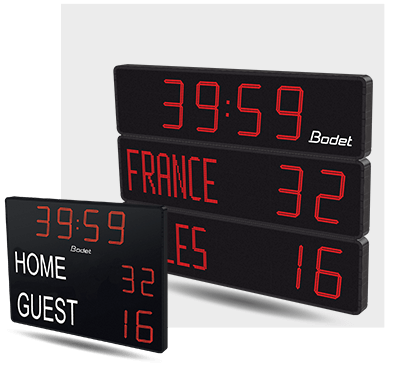 The 2025, a classic scoreboard from Bodet, is compatible with rugby union and rugby league. Simple and budget-friendly, this scoreboard model displays the timer and the score for stadiums hosting departmental and regional competitions. The solar power supply (optional) is a true asset for a sport being practised outdoors. In the event of bad weather or sporting events taking place at a late hour of the day, the scoring display is guaranteed with its 8-hour battery life.
Recommended for national and international sporting events, the 2045 outdoor scoreboard is ideal for use in large stadiums since the height of its digits (45 cm) allow for optimal reading of scores up to 200 metres away. Easy to use, it displays the timer countdown and the score per team. It can also display the hour and the temperature.
According to the chosen scoreboard version, the display of team names will be either fixed HOME/GUEST (Classic version) or customisable (Alpha version).

Especially designed for an outdoor use, both scoreboards come with tropicalised electronic boards to face all weather conditions (rain, humidity, and so on).
Designed and manufactured in France by Bodet Sport teams, our rugby scoreboards have been tested in-house in order to resist not only the most extreme climate conditions but also ball impacts.
Two scoring control solutions for rugby: the POCKET keyboard and
SCOREPAD
SCOREPAD or POCKET keyboard: opt for the control solution most adapted to your needs and your installation.
Both solutions are compliant with current rugby union and rugby league regulations.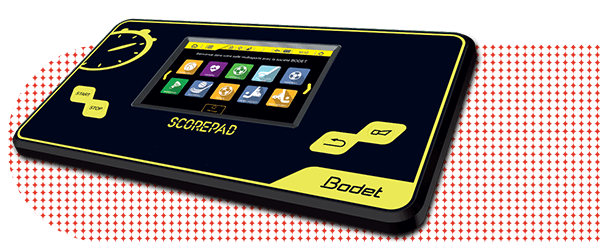 SCOREPAD: the most complete control solution
As a touch-sensitive, multi-support display and highly customisable, the SCOREPAD control keyboard ensures efficient management of scoring display on scoreboards and video screens. Compatible with the ALPHA versions of the 2025 and 2045 scoreboards, it allows management of the scoring specific to the practice of rugby, at your fingertips:
You will have management of the scoring, specific to the practice of rugby, at your fingertips.
add a try (+5), a penalty (+3), a conversion (+2) or a drop goal (+3)
add a bonus: offensive or defensive
assign a red card or a yellow card to a player
display the overtime duration in the event of a draw at the end of the regulation time
activate the horn at the end of each period and reset the timer
Highly customisable, you can configure the match information yourself. With SCOREPAD, it is also possible to:
Modify the duration of each period, the jersey and marking colour, the team name
display partners' or team logos
add a background image on a TV or LED screen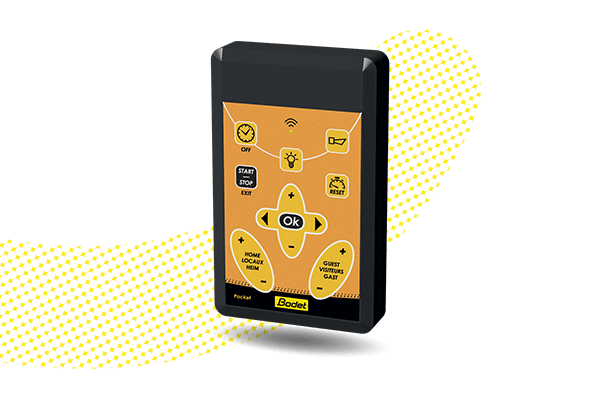 THE POCKET KEYBOARD: the solution controlling all essential commands
Perfect for managing scores display on the scoreboards, the POCKET keyboard allows starting and stopping the timer, adjustment of the luminosity of the LEDs, adding or removing a point, starting and stopping the horn. Easy to use, the POCKET keyboard is: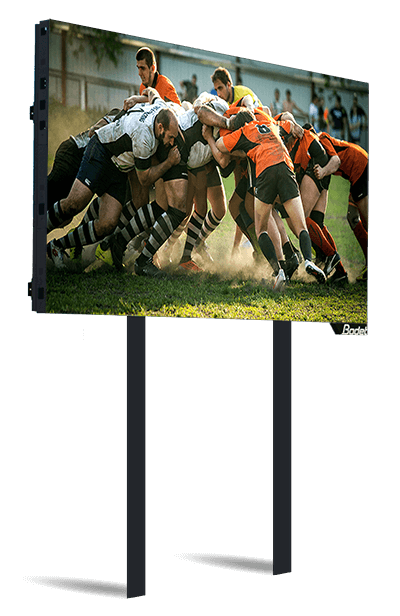 Rugby supporters: experience your passion for sport on a giant screen
Bodet Sport offers ready-to-use video packages to broadcast rugby matches highlights, videos, advertisements and partners' logos. These packages include LED screens, standalone perimeter LED screens or video screens combined with a scoreboard.
These video display solutions allow promotion of both advertisers and partners in a more dynamic way than with classic sponsor panels. Besides, they offer greater freedom of action: displaying animated visuals, images or videos via programmed playlists. Several display configurations can be saved depending on the sporting event and the level of competition. These turnkey solutions quickly pay for themselves as they guarantee a quick return on investment thanks to the income generated by the sale of advertising spaces.
Depending on the size of the stadium, Bodet Sport offers several LED screen sizes for an outdoor use and designed to withstand ball impacts, vandalism, condensation, humidity, bad weather or dust intrusion.
Easily manage the sports and advertising display of different display media with VIDEOSPORT and VIDEOMEDIA, our control software.
Bodet Sport products adapted to rugby
They trust us, why not you?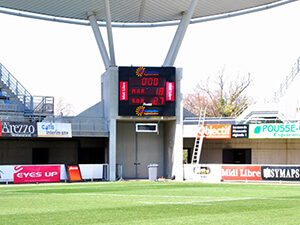 GGL Stadium
Montpellier
France
Henri Cazenave Stadium
Orthez
France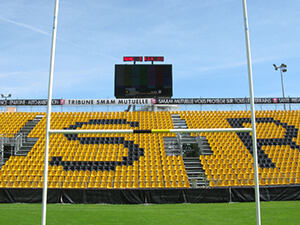 Marcel Deflandre stadium
La Rochelle
France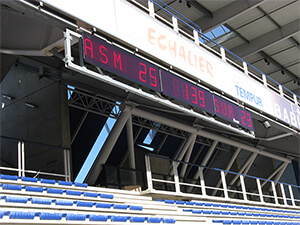 Marcel-Michelin Stadium
Clermont-Ferrand
France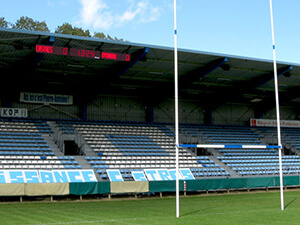 Pierre Fabre Stadium
Castres
France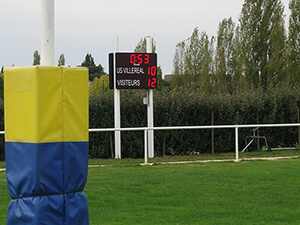 Léo Cheyrou Stadium
Villeréal
France