Badminton, padel, squash, tennis, table tennis: which scoring solution to choose?
Scores display and control solutions: the equipment dedicated to racket sports
Be it shuttlecock or ball games, the Bodet Sport equipment is compliant with the regulations of the federations of the following sports: badminton, padel, squash, tennis and table tennis (ping-pong).
Whether for indoor or outdoor use, for international competitions or for leisure training and free play, Bodet Sport offer specific solutions: scoreboards, video display supports and control solutions specially designed to display, referee and manage racket sports scoring.
Indoor and outdoor scoreboards for racket sports
Subject to many technical tests conducted in-house by Bodet Sport testing and R&D departments, and tested on the field along with partner clubs such as the Bach from Cholet, our scoreboards combine robustness and reliability and adapt to the needs of all racket sports levels.
Perfect for small to medium-sized venues hosting departmental competitions, the BTX8020 SET scoreboard has been specifically designed for racket sports. Fitted with 5 red digits of 20 cm per team/player, it displays set, game and point information for tennis and padel, sets and points for badminton and squash, the number of won sets and the points of the ongoing set for table tennis. Useful for racket sports, a red light indicates which team has the serve.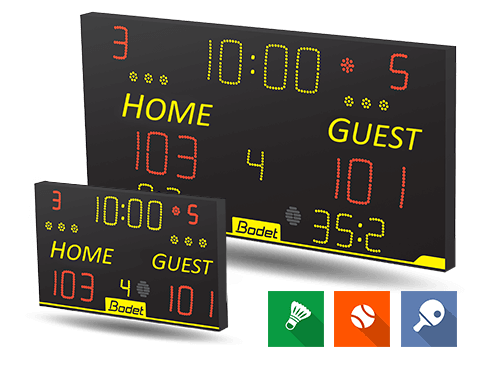 The 8015 scoreboard is a small and simple indoor scoreboard compatible with tennis, table tennis and badminton. It displays basic information such as the score and the timer. It will satisfy small budgets as well as medium-sized sports halls hosting competitions from departmental to regional level.
For bigger tennis, table tennis or badminton national competitions, opt for the reference multi-sport scoreboard: the 8T120. It displays more game information than the 2 previously mentioned scoreboards: fouls, time-out duration, possibility to customise team names, to display sets for badminton, and so on.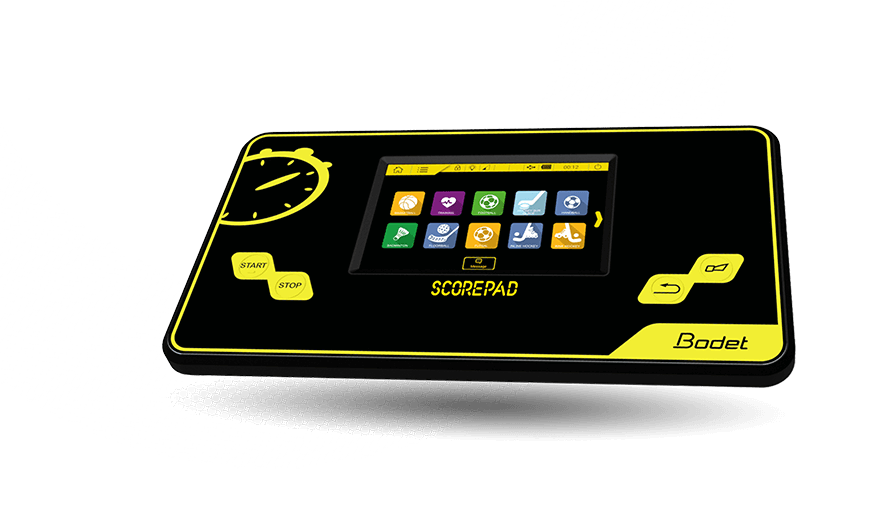 SCOREPAD

, the touch screen keyboard specific to each sport

At Bodet Sport, innovation is part of our DNA. We developed in-house SCOREPAD, a modern control solution specific to each racket sport: badminton, padel, squash, tennis, table tennis.

Easy to use thanks to a user-friendly interface, the SCOREPAD keyboard allows timing and scoring of matches. It easily manages all types of display, whatever the Bodet scoreboard or the video support: LED screen, perimeter LED screen or video cube.

On SCOREPAD, each sport is developed according to its specific game rules. It is possible to manage the type of game for table tennis (single or double), tennis (3 or 5 sets with or without tie-break), badminton (choice of the number of sets and points), squash (national, level 2 to 4), and padel (padel 1 or 2). SCOREPAD can assign the serve to a player, display sets, add points to players according to the rules of the concerned sport (tennis and padel: 15, 30, 40 or A, table tennis: 1, 2, 3...) and much more.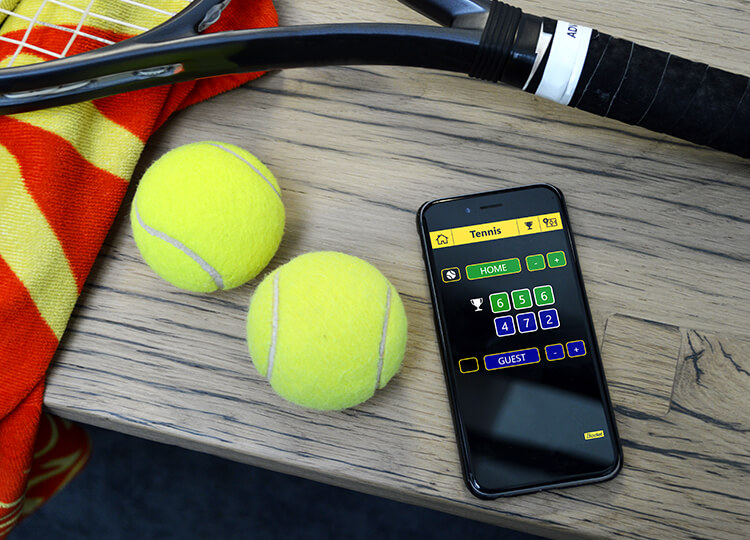 SCOREAPP

, the self-refereeing solution

SCOREAPP is a self-refereeing solution available on connected watches, touch screen tablets or smartphones and designed for badminton, padel, tennis and squash. Be your own referee during your training using this wireless and unrestricted solution, at your fingertips.

SCOREAPP allows remote management of the scoreboard and keep track of scores, all with an easy-to-use interface. Everything is done using a smartphone or a connected watch. This solution is ideally suited to the autonomous management of scores in sports complexes, sports and leisure centres and sports halls, but it can also be used in sports clubs to make self-refereeing available for everyone.

Did someone score a point? All you have to do is report it on your watch or smartphone. SCOREAPP will make sure to display the result on the scoreboard.
Tennis, badminton or padel clubs: thrill your spectators and promote your partners using video display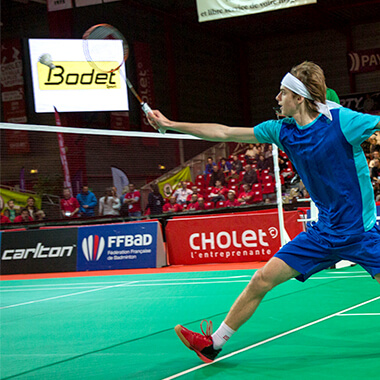 Smash, lob, passing-short, slice, etc. are sensational and memorable actions when it comes to racket sports. The LED video screen is the perfect solution to enhance these game actions.
When it comes to high-level competitions, the video display enhances sports events on clay courts or in indoor venues by zooming in on game actions and rebroadcasting match highlights. Associated to a scoreboard, the video display gives spectators maximum visibility of both the score and the match.
Bodet Sport offers ready-to-use video packages to display advertisement and sponsors logo: autonomous perimeter LED screen or video screen integrated into a scoreboard. The material investment in these video packages quickly pays for itself as it allows clubs to finance their sports season and generate revenue by selling advertising spaces to advertisers or partners.
Simply manage the different display supports: scoreboard, video screen, and perimeter LED screen along with a control software (VIDEOSPORT and VIDEOMEDIA).
Bodet products adapted to racket sports
They trust us, why not you?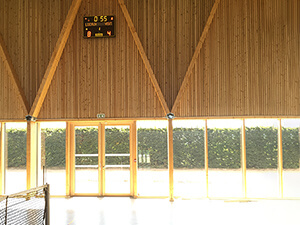 Scherwiller sports complex
Scherwiller
France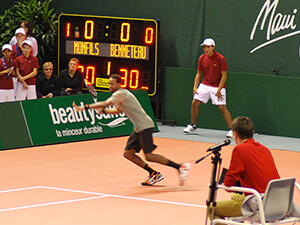 Palais des sports de Pau
Pau
France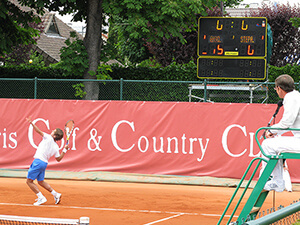 Paris Country Club
Rueil-Malmaison
France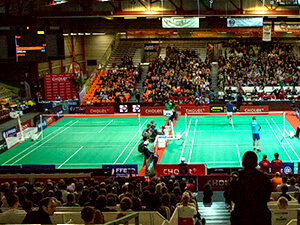 La Meilleraie sports hall
Cholet
France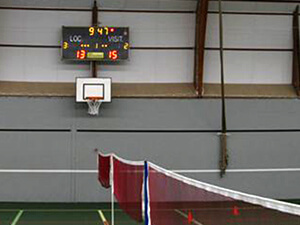 Cosec la Chattière multisports hall
Fougères
France