Multisport: a unique scoring solution for managing different sports
Scoreboards, video screens and refereeing solutions for multisports
Multisport fulfills the aspirations of players who wish to try several activities. Basketball, handball, badminton, volleyball, tennis, padel, floorball, korfball or netball... For an indoor or outdoor game, Bodet Sport developed universal solutions for several sports: scoreboards, video display screens and control solutions specially designed for displaying, refereeing and managing scores. Our equipment complies with the regulations of the federations of each sporting event that needs refereeing.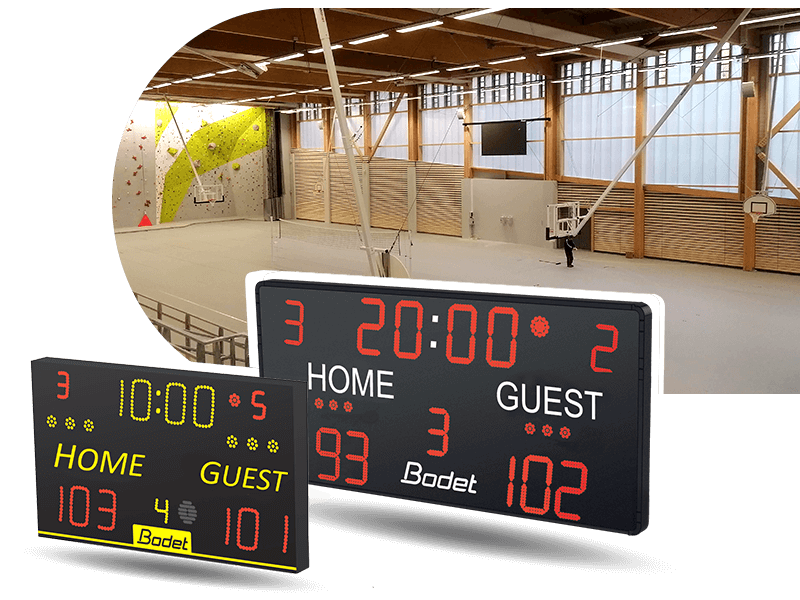 Indoor and outdoor scoreboards compatible with several sports
For sports halls of all sizes and for all levels of competition, find out the multi-sport scoreboard that you need!
Compact and simple, the 8015 indoor scoreboard is perfectly suited to departmental and regional competitions taking place in small and medium-sized sports halls . It displays all useful information when refereeing a match: score, game time, team fouls, time-out countdown, period number... It is available in HOME/GUEST version (stickers), or in alphanumeric version (customisable team names and scrolling messages). It is compatible with the SCOREPAD touch screen keyboard.
Designed to be installed in an outdoor field, the BTX6025 MS scoreboard is also suitable for departmental and regional competitions. It is very similar to the 8015 scoreboard given the layout of the information. It displays essential information: the score, the timer (or hour), total team fouls, the number of won sets or the number of penalties, the end of period indicator... Designed for outdoor use, it withstands bad weather. It is compatible with the SCOREPAD touch screen keyboard and SCOREAPP.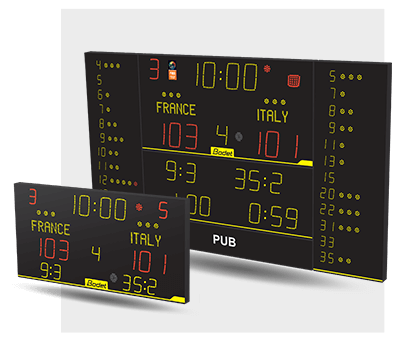 For regional and national basketball, handball, volleyball, badminton, inline hockey, floorball, and futsal competitions, opt for our reference multi-sport scoreboard: the 8T120. It displays key game information: fouls, time-out duration, customisable team names, sets for badminton, and so on. For larger sports halls, opt for a more comprehensive multi-sport scoreboard such as the 8T225-F10. Available in HOME/GUEST version (stickers) or in alphanumeric version (customisable team names and scrolling message), it displays the player's number as well as individual fouls.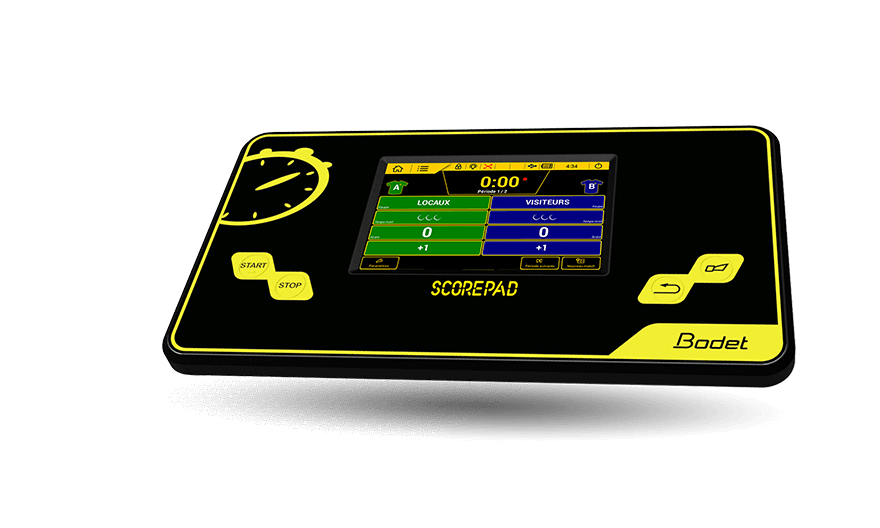 Managing multi-sport matches with
SCOREPAD

, the touch screen control keyboard

SCOREPAD is a modern and touch-sensitive control solution on which Bodet Sport teams have developed the multisport activity.

Easy to use thanks to a user-friendly interface, SCOREPAD allows refereeing, managing and counting the score of multi-sport matches. It easily manages all types of display on a scoreboard or a video screen.

On the SCOREPAD home screen, choose Multisport and a match configuration according to your team sport: MULTISPORT 2x30 min (timer and score), 2x30 min (timer, score and fouls), 4x15 min (timer and score), 1x19 min (timer and score). If none of them suits you, it is possible to create a custom configuration.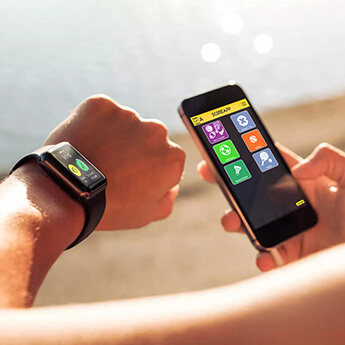 SCOREAPP

, the self-refereeing solution on connected watches or smartphones

SCOREAPP is a self-refereeing solution available on connected watches, smartphones and tablets. Manage scores in total autonomy using your own device. SCOREAPP ensures greater freedom of movement and allows you to keep track of your own training sessions. All without wires or cables.

Remotely control your scoreboard and easily manage your points. Everything is done using a smartphone or a connected watch.

Did someone score a goal? All you have to do is report it on your watch or smartphone, and SCOREAPP will make sure it is displayed on the multi-sport scoreboard.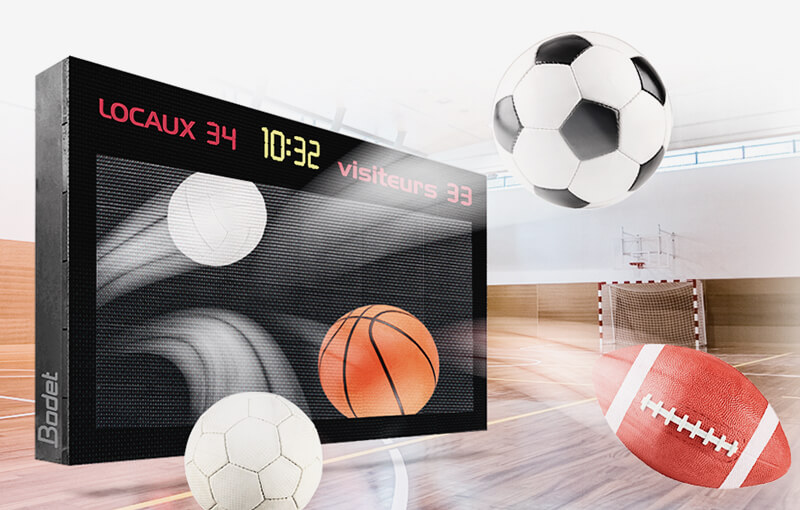 The LED video screen for displaying match highlights and partners' advertisements
Regardless of the sport practised during competitions, the LED video screen is the perfect solution for enhancing game actions and creating a great atmosphere in the stands.
Combined with one of our multi-sport scoreboards, the video display gives spectators maximum visibility of both the score and the match. Another asset of video screens for multi-sport clubs is the possibility to display advertising spots as well as partners' and sponsor's logos. The video display is then a material investment which quickly pays for itself and which allows small clubs to finance their sporting season through the sale of advertising spaces to advertisers or partners.
Bodet Sport products adapted to multisport
They trust us, why not you?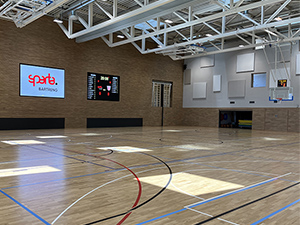 Centre Niki Bettendorf
Bertrange
Luxembourg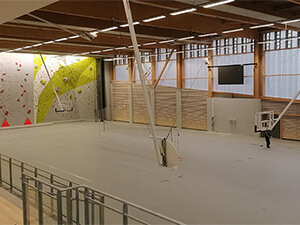 OMEGA sports complex
Aizenay
France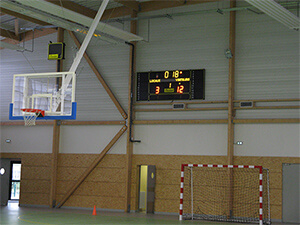 Serge Soualle sports complex
Saint-Mars-d'Outillé
France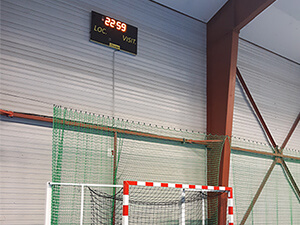 Multipurpose Hall
Vertou
France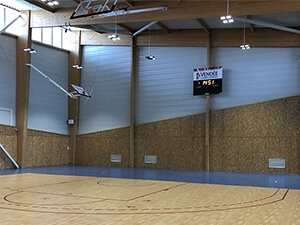 Sports hall
Bellevigny
France