Which sports display to choose for ice hockey?
Scoreboards, video cubes and LED video screens: our scoring solutions for ice hockey
Originating in Canada, ice hockey is a popular team ice sport played on indoor or outdoor skating rinks. Be it for leisure or high-level competitions, Bodet Sport offers sports display solutions compliant with ice hockey sports regulations such as: scoreboards, giant screens and LED video cubes for displaying scores and match information, but also control solutions for managing scores display and video animations of ice hockey matches.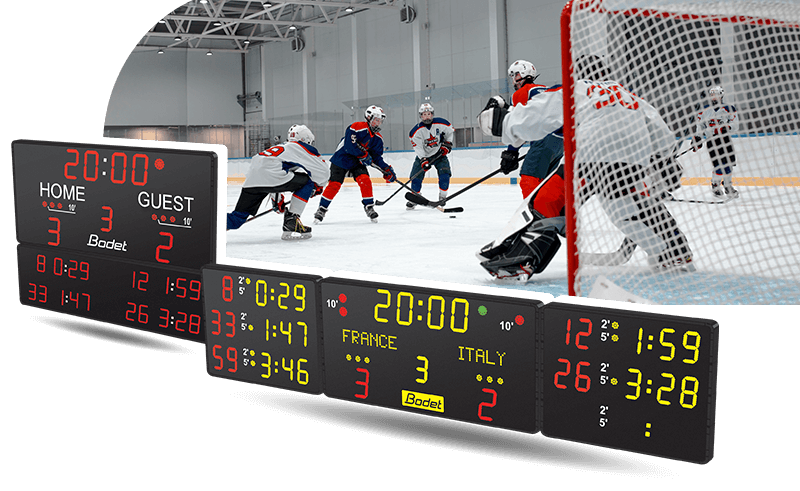 Sports display solutions for ice hockey
The BTX6125 HK is a scoreboard specifically designed for ice hockey. Perfect for departmental and regional competitions, it displays key match information: score, timer countdown, period number, time-out countdown, display of the 2 penalty times along with the player's number. Designed for permanent use in indoor or outdoor skating rinks, it is made of solid materials withstanding corrosion, temperature, and humidity. Just like the BTX6125 scoreboard, it adapts to an extreme environment including cold, corrosion and humidity.
For national and international ice hockey competitions, opt for the BTX6425 ALPHA HK scoreboard. Complete, this scoreboard designed for high-level matches includes a LED strip that allows customising of team names and display a scrolling message. The BTX6425 ALPHA HK scoreboard also features a 2 and 5 minute exclusion time display.
Just like the BTX6125 scoreboard, it is resistant and robust to cope with the environment of skating rinks: cold, corrosion, humidity...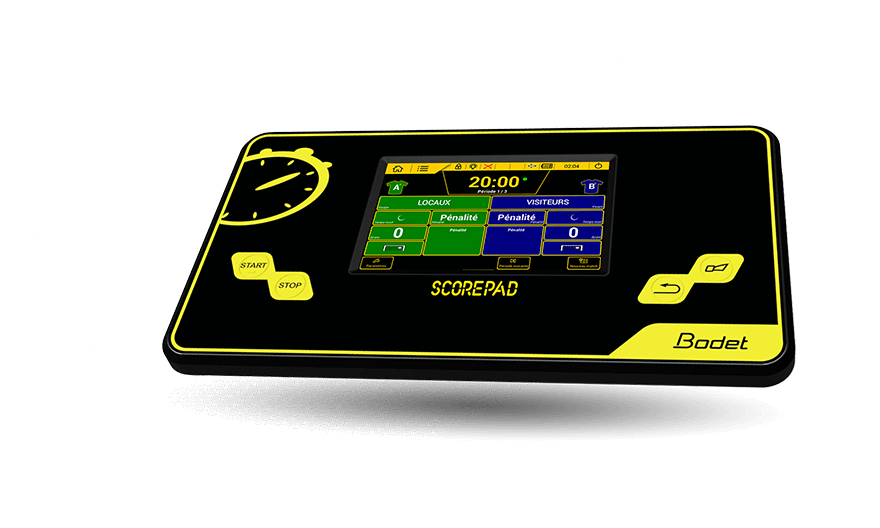 How to display the information and manage the scores of ice hockey matches ?
Designed to manage ice hockey match and scoring information, the SCOREPAD touch screen keyboard allows control of the BTX6125 HK and BTX6425 ALPHA HK scoreboards. As a multi-support display, it also allows display of all match information on several LED screens and video cubes.
Known for its intuitive and easy-to-use configuration, SCOREPAD contains the official rules of ice hockey. It can assign a 2 or 5 minute penalty to a player, activate a time-out countdown, add a goal or move on to the next period.
Highly customisable, it offers the possibility to configure specific match information of ice hockey: team customisation, jersey colour and marking, integration of team logos, sponsors' logos, and so on.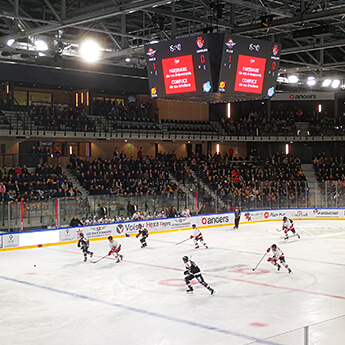 How to enhance ice sports supporters experience using video display?
In addition to a scoreboard, enhance ice sports supporter experience using video display! Display ice hockey game action and figure skating activities in real time, broadcast match highlights and promote your sponsors using a giant screen or a LED video cube.
Besides ensuring a great atmosphere in a skating rink, using a LED screen or a video cube allows ice hockey and figure skating clubs to benefit from additional income by the sale of advertising spaces to sponsors and partners.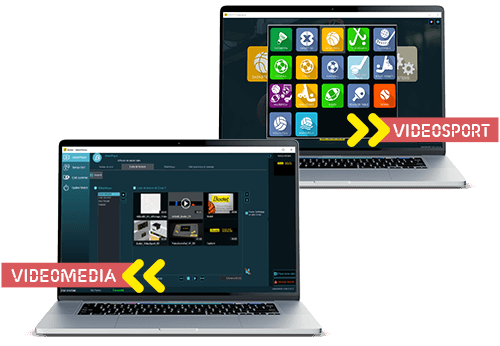 How to manage giant screens and LED video cubes during ice hockey matches?
The VIDEOSPORT and VIDEOMEDIA control software have been developed in France by the Bodet Sport design office. Compatible with our ice hockey scoreboards and our video modules, the VIDEOSPORT software (the most complete solution) allows simultaneous control of scores display, match animations and sponsors advertisement on screens and LED video cubes of a skating rink. The VIDEOMEDIA software allows display of advertising messages and introduce players and teams.
Installed on a control room PC, this software ensures easy and centralised control of the different scoreboards and video displays installed in a skating rink: Reception TV, VIP rooms, changing rooms, press rooms, screens and video cubes for the public...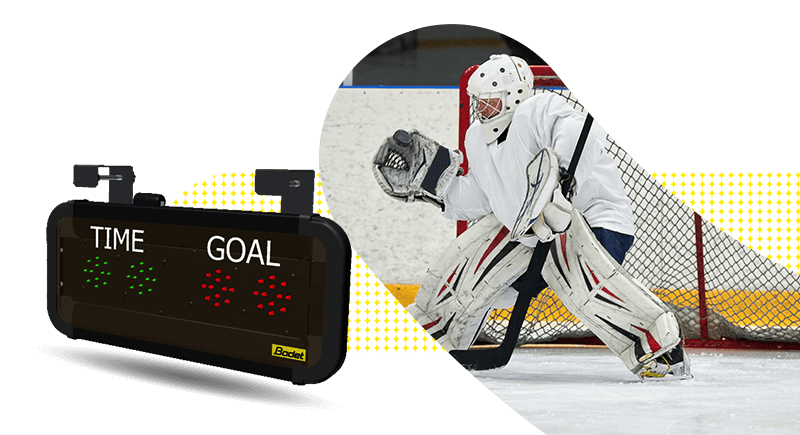 Goal indicator for completing scores of ice hockey matches
In addition to the BTX6125 HK and BTX6425 ALPHA HK scoreboards, Bodet Sport offers a goal indicator dedicated to ice hockey to ensure complete display of game information. Small, hermetic and robust, it displays the end of the regulation time thanks to its 2 green indicators and it also allows validation of a goal by a referee thanks to its 2 red indicators.
Bodet Sport products adapted to ice hockey
They trust us, why not you?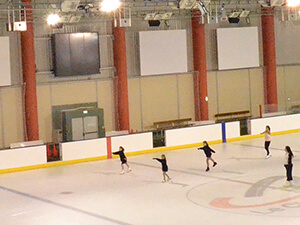 Glisseo sports complex
Cholet
France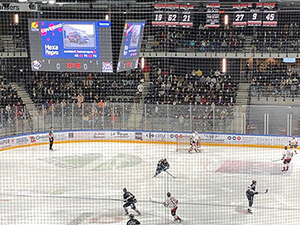 Angers IceParc
Angers
France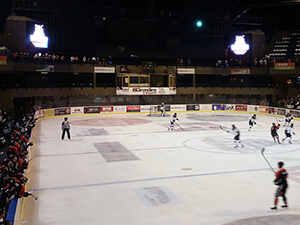 Mériadeck skating rink
Bordeaux
France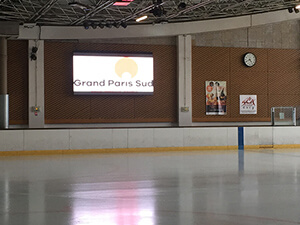 François Le Comte skating rink
Evry
France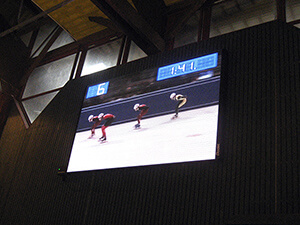 Jean Régis skating rink
Annecy
France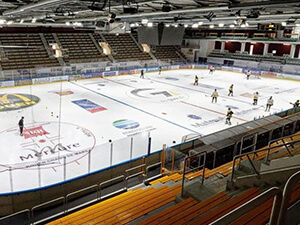 Guy Boissière skating rink
Rouen
France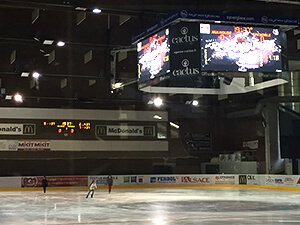 Mulhouse skating rink
Mulhouse
France