How to manage scores display for volleyball and beach volleyball?
Scoreboards, scoring management and video screens: all our solutions for volleyball and beach volleyball
Refereeing and displaying accurate scoring, broadcasting volleyball match information, enhancing supporter experience, reliving match highlights on video screen, promoting sponsors and partners: such are the priorities of all volleyball and beach volleyball clubs.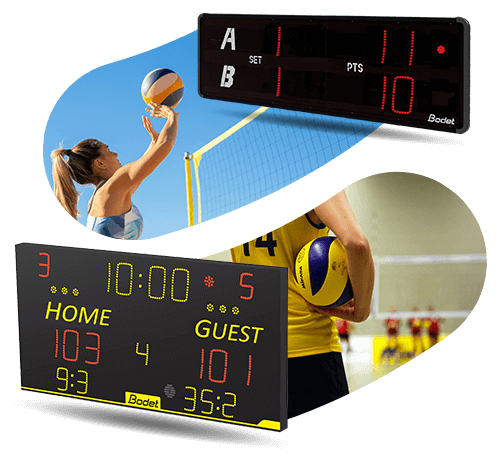 Scoreboards adapted to volleyball and beach volleyball rules
Perfectly suited both to indoor volleyball fields and outdoor beach volleyball fields, the BTX8020 SET scoreboard displays essential information: the number of points of the ongoing set, the number of won sets by team. It also indicates which team has the serve. This is the perfect scoreboard for recreational or competitive volleyball in a sports hall, an outdoor field or a sandy ground.
The 8T120 multi-sport scoreboard is an indoor scoreboard dedicated to regional volleyball competitions. Besides displaying the score per team, it indicates both teams time-outs, the time-out duration as well as the number of won sets per team. Combined with the SCOREPAD touch screen keyboard, its alpha version allows the setting of team names and the scrolling of 60 character text messages.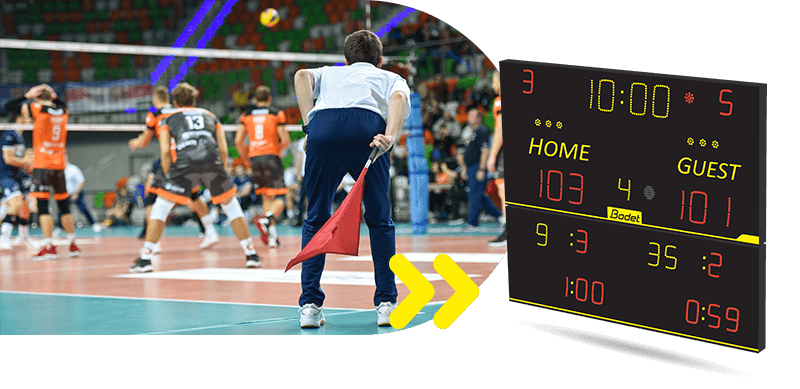 The 8NT220-F10 scoreboard offers multiple display possibilities for national level matches: ongoing score, number of fouls per team, last individual foul per player, penalty times.
It is THE reference scoreboard for volleyball with the display of information specific to this sport: result of the 4 previous sets, won sets, technical time-outs and time-outs called by the coach. Available in alphanumeric version, it is able to display team names and scroll 60 character text messages using the SCOREPAD touch screen keyboard.
The height of its LED digits (20 cm) ensures optimal reading up to 120 m. Thanks to its big dimensions and its high luminosity LED display, it has been designed to equip large sports halls, such as arenas.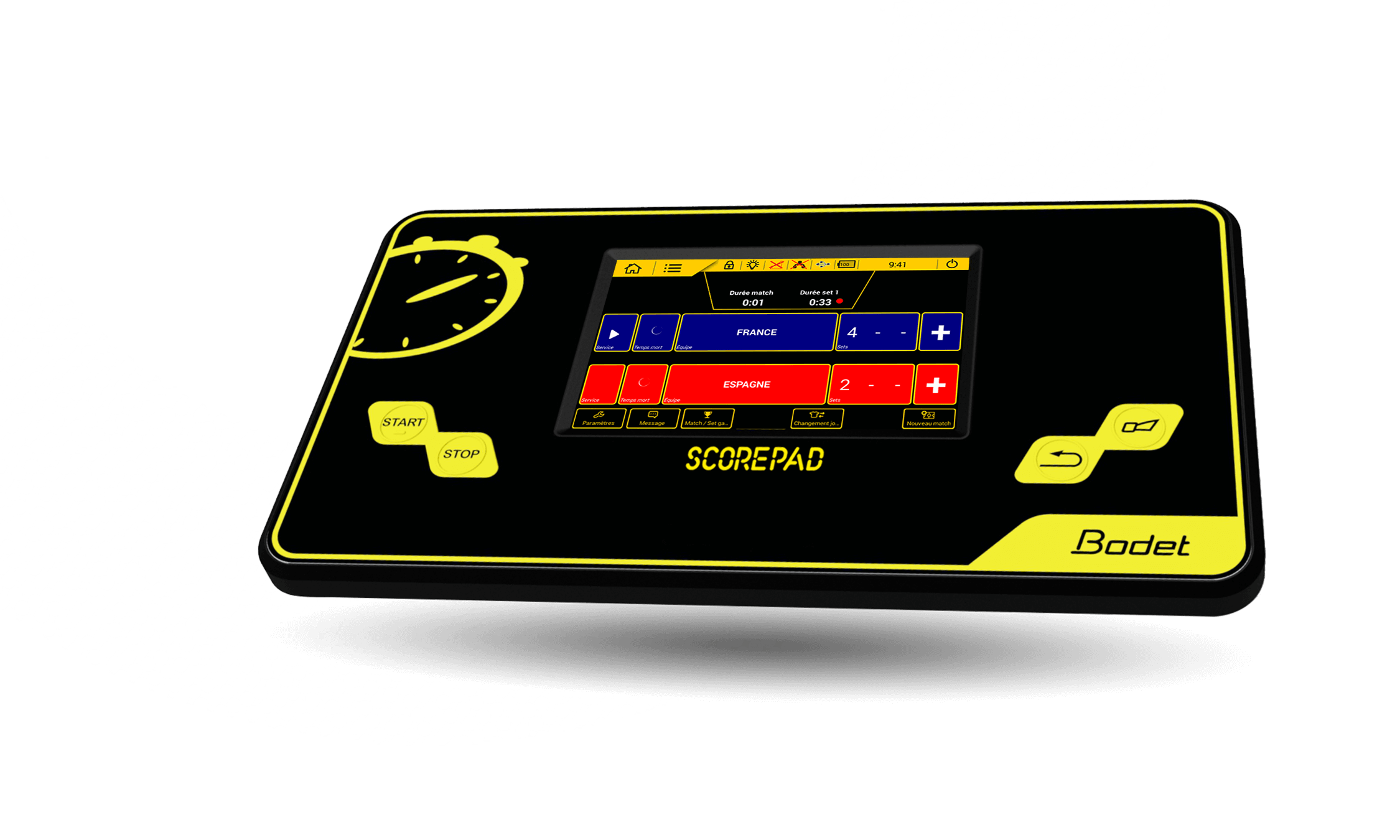 SCOREPAD

: the score management solution for volleyball and beach volleyball scoreboards

Compact, mobile and highly customisable, the SCOREPAD touch screen keyboard makes it easy to manage the display of volleyball match information both on scoreboards and screens or LED video cubes.

With SCOREPAD, two standard match configurations are available for volleyball: in 3 sets or in 5 sets. SCOREPAD allows assigning the serve to a player, displaying the number of sets, adding the point won by one of the two teams or activating the countdown and the horn which announces the beginning or the end of a time-out. If necessary, the settings of each configuration can easily be modified.

SCOREPAD can also be used for beach volleyball. To do so, select the volleyball icon and access the configuration settings to adapt them to beach volleyball rules.

Mains or battery operated, with SCOREPAD, referees can easily follow matches from the pitch side. Its power supply with the long-life battery option is particularly appreciated during beach volleyball outdoor matches.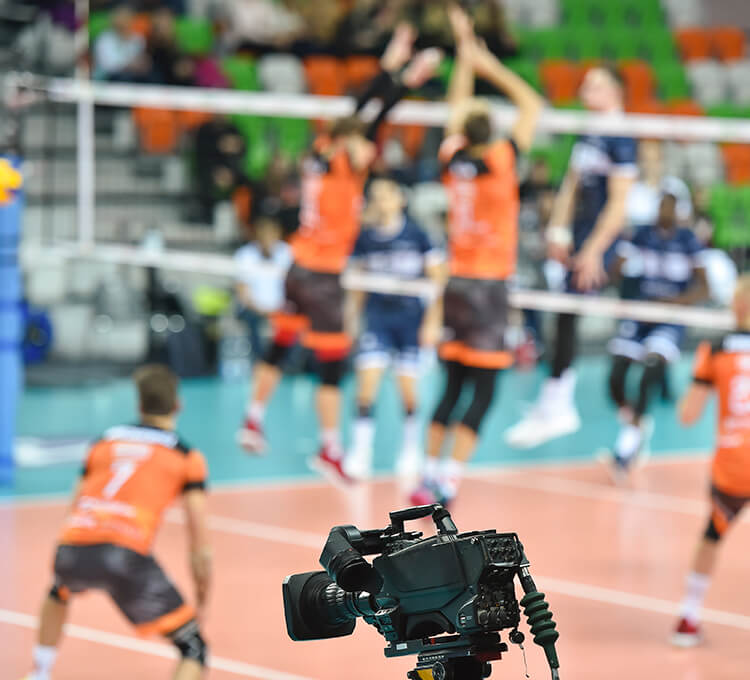 How to galvanise volleyball events and highlight game actions using video display?
Animating an event, galvanising matches, promoting sponsors and partners: such are the goals of any organiser of volleyball and beach volleyball sporting events. To do so, it is possible to combine Bodet Sport scoreboards with LED video screens or video cubes. These display media allow showing of slow motions replays of memorable game actions: attacks, smashes and counter-attacks by players at the net. Sensations guaranteed!
LED screens and video cubes are perfect video solutions for promoting partners and displaying their advertisements during international competitions taking place in large sports facilities such as arenas or sports halls.
For local and departmental competitions both indoors and outdoors, Bodet offers turnkey solutions adapted to the smallest budgets and smallest clubs: perimeter LED screen, screen integrated into the scoreboard, standalone video packs.
Investing in this type of equipment quickly pays off through the sale of advertising spaces. Besides generating income, these solutions make it easy to optimise the display of your communications. By using a screen, you will be able to centralise all advertising spaces and partners' logos on a single media support. No more need to fix panels and advertising banners on the walls of your sports hall. Say goodbye to visual pollution!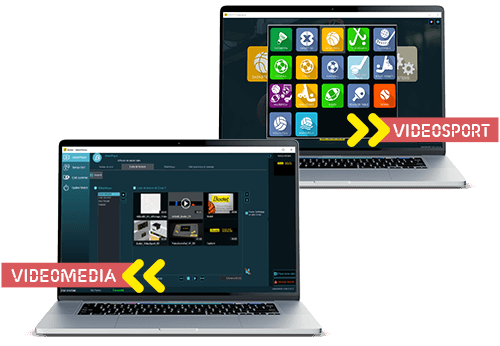 Videosport

and

videomedia

: simple and interactive software which manages scores and advertising display

Developed by Bodet Sport application engineering department, The VIDEOSPORT software is compatible with our scoreboards. It allows simultaneous display of scores and advertisements on scoreboards, LED screens, perimeter LED displays and video cubes. In addition to displaying scores, this software makes it possible to broadcast animations, players presentations and advertising spaces. The VIDEOMEDIA software displays advertising messages or players and teams presentations.

These solutions allow simplified and centralised management of the display present in the sports hall, press room, VIP rooms or changing rooms...
Bodet Sport products adapted to volleyball
They trust us, why not you?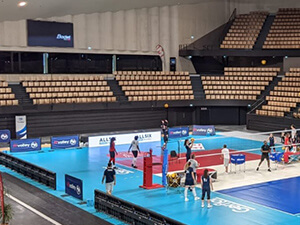 Espace Mayenne Arena
Laval
France
Léo Lagrange sports complex
Tourcoing
France