3X3 basketball, an outdoor team sport
Which score display solutions to choose for 3x3 basketball?
Different to traditional basketball, the 3x3 basketball has its own game rules. This discipline requires the display of information such as game times, scores and possession times. Bodet Sport offers FIBA certified scoreboards as well as video display solutions dedicated to 3x3 basketball.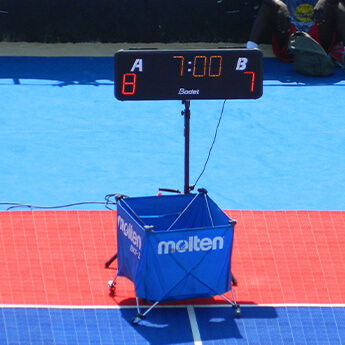 Indoor and outdoor scoreboards to meet the specific needs of 3x3 basketball
As a long-standing FIBA and FFBB supplier and scoring table equipment expert, Bodet Sport offers FIBA certified scoreboards.
Especially designed for 3x3 basketball, the BTX6015 scoreboard times basketball matches by displaying the timer, the score as well as the dot stop timer. Since 3x3 basketball is mainly an urban sport, the BTX6015 scoreboard has been designed for permanent outdoor use, to face all weather conditions: rain, wind, temperature, shocks, corrosion, and so on. Its aluminium casing and polycarbonate glass makes it all the more resistant. The BTX6015 scoreboard is compact, mobile and can be easily transported thanks to its tripod.
For indoor 3x3 basketball matches, The 8T120 scoreboard fits perfectly in all sports halls hosting departmental and regional basketball competitions. This scoreboard displays scores, the timer, team fouls, time-outs and team names for the alpha version.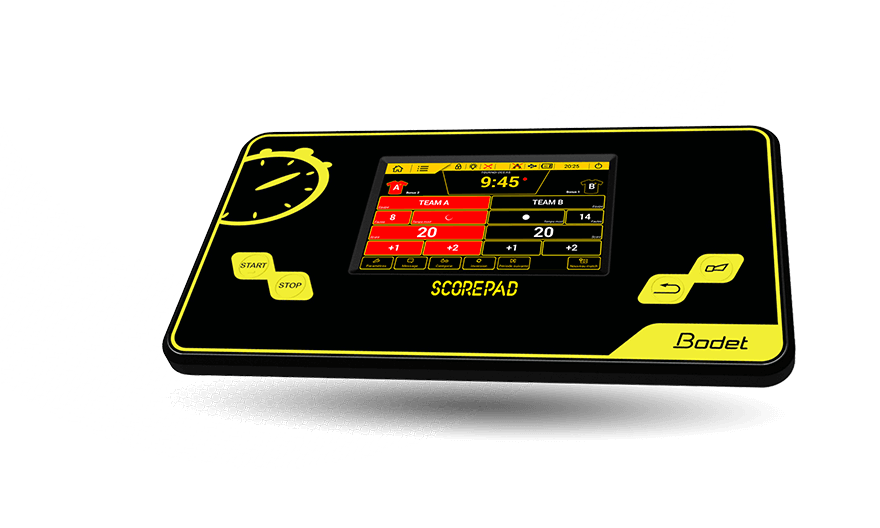 Which control solutions to choose to easily manage 3x3 basketball matches?
As highly recommended for its ergonomic design and ease of use, the SCOREPAD touch screen keyboard allows easy control of the BTX6015 and 8T120 scoreboards. Its 3x3 basketball option contains 3x3 exclusive rules. For example, it is possible to start a 10-minute match, add 1 or 2 points or set the time of possession to 12 seconds.
For 3x3 basketball matches between friends or colleagues, SCOREAPP is an application available on smartphones, tablets or connected watches allowing management of your own scoring in real time.
In addition to a scoreboard, and since 3x3 basketball is a true action sport, it is highly recommended to use a LED screen to broadcast scores. A video screen also allows displaying match images in real time, going back to game actions or enhancing your partners and sponsors. Our video screens can be easily controlled thanks to the VIDEOSPORT and VIDEOMEDIA control software, exclusively developed by Bodet Sport R&D teams.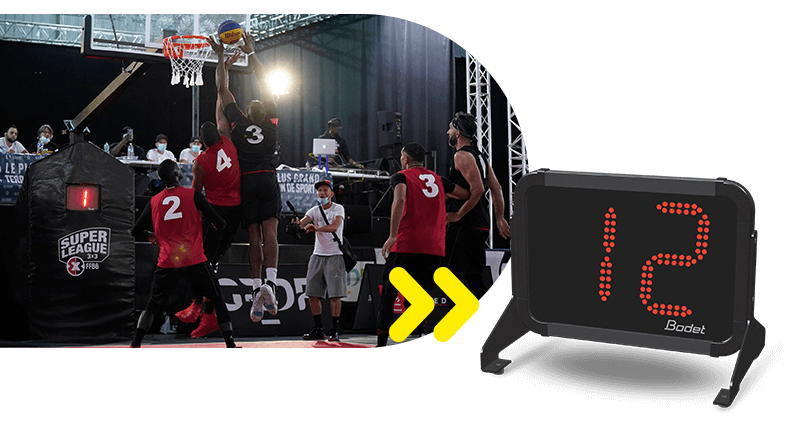 Accessories specific to 3x3 basketball
Bodet Sport offers a range of accessories exclusively dedicated to 3x3 basketball: possession displays, referee whistle, LED strips for basketball backboards.
During these urban matches, count down the 12 seconds of possession of 3x3 basketball using the BTX6002 SOLO! This intuitive product manages the possession time both for competitions and training. Light and easily transportable, it can be set on the basketball backboard or placed on the floor.
This display comes with a powerful internal horn which emits a sound signal when the 12 seconds of possession are up.
Bodet products adapted to basketball 3x3
They trust us, why not you?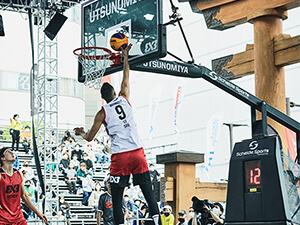 FIBA 3x3 World Tour
Utsunomiya
Japan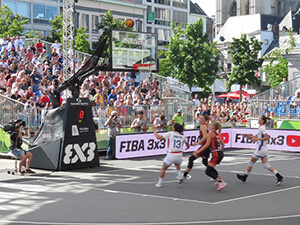 FIBA World Cup 2022
Antwerp
Belgium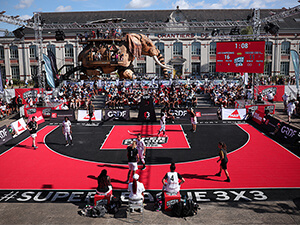 Open de France 2020
Nantes
France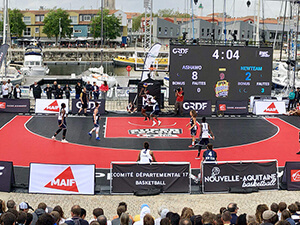 Open de France 2019
La Rochelle
France