Scoreboards and LED screens: our solutions for beach soccer
Scoring and match animation: which sports display to choose for beach soccer?
Also known as sand football, beach soccer is a variant of football but played on the beach. Although beach soccer and football mainly share the same game rules, there are still a few differences: the duration of periods, the dot stop timer, the number of fouls, and so on.
With over than 50 years of expertise in score display and development of sports control solutions, Bodet Sport teams have designed scoreboards, various video display supports and control solutions that meet the specific rules and requirements for displaying, controlling and managing beach soccer scores.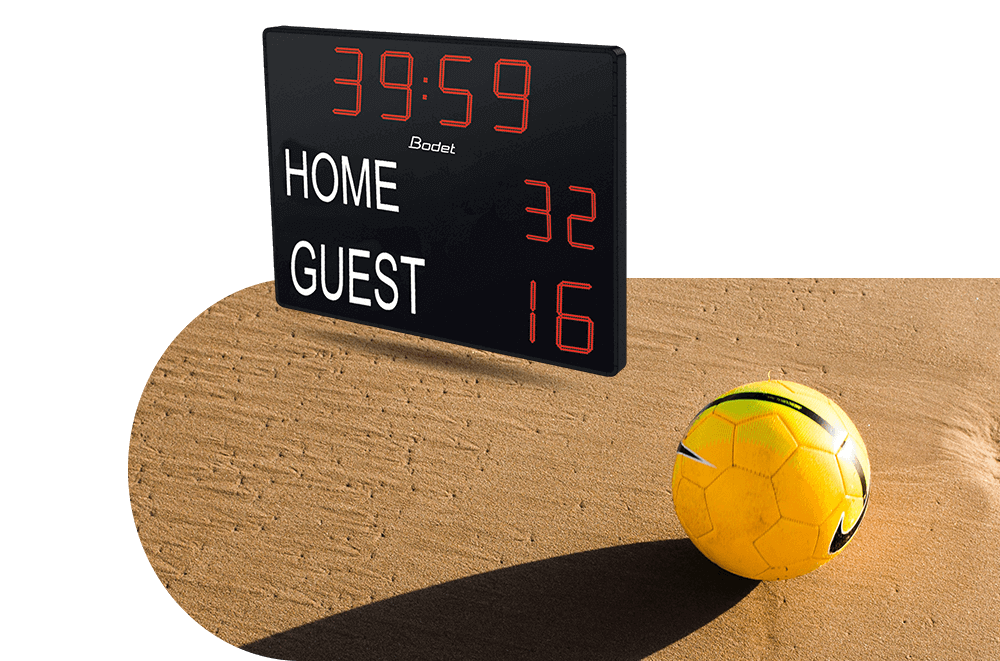 Durable outdoor scoreboards specifically designed for beach soccer
Perfect for departmental to regional sporting events, the 2025 outdoor multi-sport scoreboard is particularly suited to beach soccer fields as it can be placed directly on the beach. Simple to use and easy to read, this scoreboard with its adjustable brightness displays the timer's countdown and the team score.
Perfect for departmental to regional sporting events, the 2025P scoreboard is suited to the practice of Beach Soccer by displaying the period number and being controlled via SCOREPAD. These two scoreboards have a solar power supply option (solar panel) which is a true asset for displaying beach soccer scores, since it is not only practised when it is sunny but also on beaches which are not always provided with power supply. And since we thought about everything, in the event of bad weather or at nightfall, the internal battery can last up to 8 hours.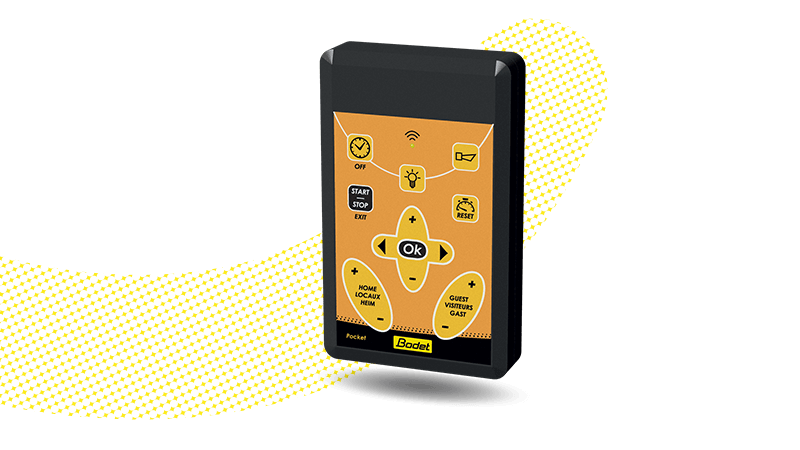 The POCKET keyboard: beach soccer scoring management solution
Designed for the 2025 outdoor multi-sport scoreboard, the POCKET keyboard is the perfect control solution for beach soccer.
Easy to use, it manages the display of these scoreboards by starting and stopping the timer, managing the scoreboards' brightness, adding a point, starting or stopping the horn, and so on.
Ergonomic, it can be easily carried everywhere thanks to its small size (comparable to a remote control), its light weight as well as its battery operation.
Compliant to beach soccer current sports regulations.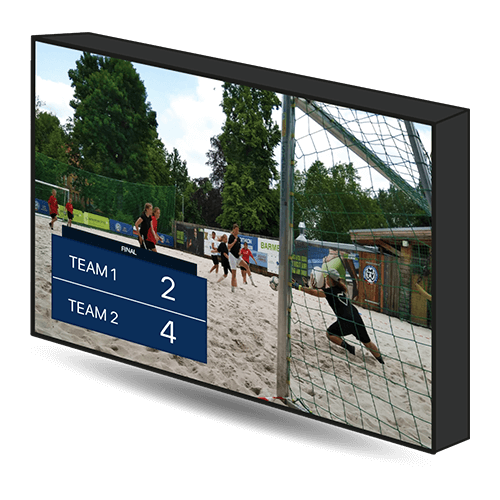 Experience beach soccer on giant LED screen
Besides displaying scores, enhance beach soccer fan experience by broadcasting match information on LED video screen. Video screens display live match images, enhance match highlights and value partners and sponsors by displaying advertisement on these screens.
In addition to providing an atmosphere worthy of the excitement of beach soccer matches, the LED video screens can also provide the benefit of a return on investment thanks to the revenue generated by the sale of advertising spaces to beach soccer sponsors.
Bodet products adapted to beach soccer
They trust us, why not you?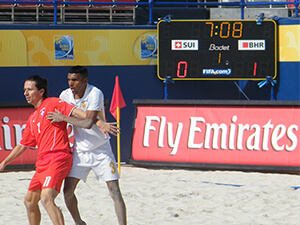 FIFA Beach Soccer World Cup 2009
Dubai
United Arab Emirates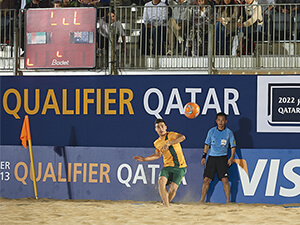 FIFA Beach Soccer World Cup 2013
Doha
Qatar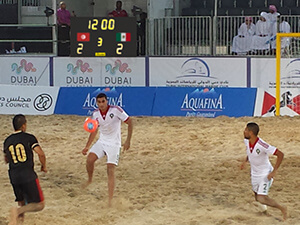 Samsung Beach Soccer Intercontinental Cup 2013
Dubai
United Arab Emirates