Scoreboards to fit with all Basketball levels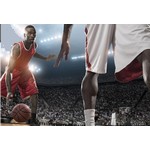 Basketball is one of the most popular sports in the world. Bodet is a FIBA partner and equips several major Baskeball teams and schools all over the world: Israel (Maccabi Tel-Aviv), Koweit, Belgium (Mons), Spain...

In order to meet requirements of each competition Bodet Sport offers a selection of scoreboards, keyboards and possession time display..