Open LFB 2106 competition timed by Bodet in Paris !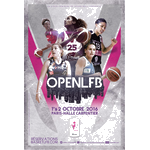 The 12th edition of the French OPEN LFB took place this past weekend. The competition, which marked the beginning of the Ligue Feminine de Basketball (Woman Basketball League) season, was staged in La Halle Carpentier in Paris.
Once again, the spectators were able to attend to six high level games, among them, the « Match of Champions » between Lattes Montpelier (LFB 2016 French champion and winner of the French Cup) against Bourges (finalist of the AccordHotels Arena tournament last May).
La Halle Carpentier is equipped with two 15m² BODET LED video screens (pitch 10), BT6120 Alpha scoreboards, BT6008 shot clocks.
More information on Bodet Sport