Combat sports on the Bodet Scorepad touchscreen keyboard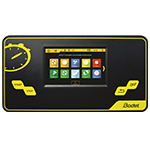 Bodet Scorepad is a touchscreen keyboard suited to the specific features of a whole range of sports, like basketball, tennis, rink hockey, and now karate and judo!

Bodet's sports display solution for combat sports is simple: just connect the Scorepad to a TV screen via the HDMI port and you're ready to time your competitions!
Next, use the sports app (karate or judo) available on the Bodet Scorepad to send game information configured to each combat sport.