Bodet Sport, there to support the French national basketball teams
The French national basketball teams were on court over the weekend of 14-16 September.
The women's team competed in a tournament at the Azur Arena in Antibes from 15-17 September, while the men's team was involved in a crucial match. In fact it was the second phase of qualification for the 2019 World Cup, and on Sunday 16 September they faced Finland at the Sud de France Arena in Montpellier. Bodet Sport provided the sports timing technology for both events.
To make it easier for fans to follow the match and make their partners highly visible, the Sud de France Arena is equipped with a video cube. For the Finland-France match, Bodet provided the 24-second possession displays. The system used by the scoreboard officials also featured the new Scorepad touch panel and videosport software. The French men's team beat Finland (83-67), despite the Finns putting on a very determined performance until the very end of the match.
In 2013, the Bodet Sport team also equipped the Azur Arena in Antibes with BT6008 24-second possession displays and two BT6730 sports scoreboards. Bodet was back in the arena to provide technical support for the matches between the French women's team (runners-up at EuroBasket 2017), the United States (Olympic Champions), Senegal (runners-up at AfroBasket 2017) and Canada (winners of the Women's Americas Championships in 2015 and 2017). Each team in the tournament was continuing their build-up to international competitions.
Last week, the Bodet Sport team was in Tenerife, Spain, for the Women's Basketball World Cup 2018, from 22 to 30 September. The winners of this competition is qualified for the 2020 Summer Olympic Games in Tokyo.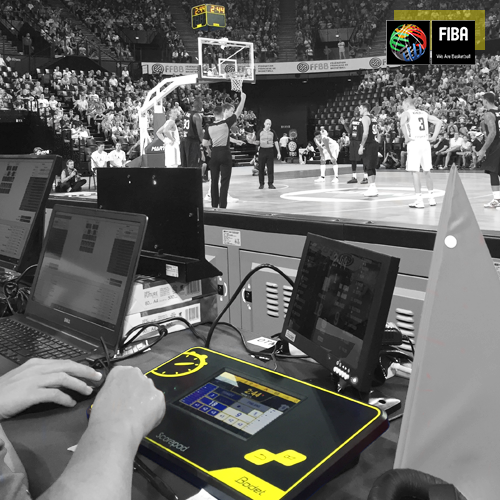 >>Explore technology for arenas.