SCOREAPP


Everyone can be their own referee.
Now you can keep track of your own scores with your smartphone or smartwatch.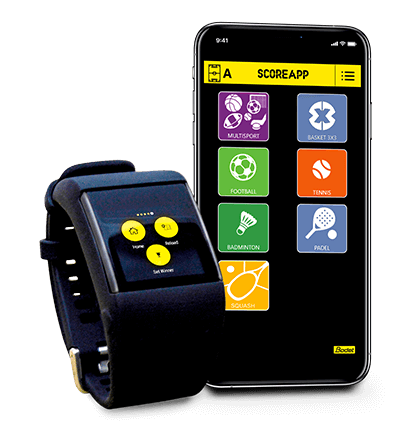 An app that empowers users to be their own scorekeeper.
SCOREAPP lets everyone be their own referee. Combining remote scoring with smart devices, it offers numerous advantages to all of its users:
The ability to referee your own game via smartphone or smartwatch.
Greater autonomy, allowing players to easily manage their own scores.
Heightened responsiveness thanks to instant displays on the scoreboard.
More flexibility thanks to remote access via Wi-Fi.
A range of choices with 7 available sports.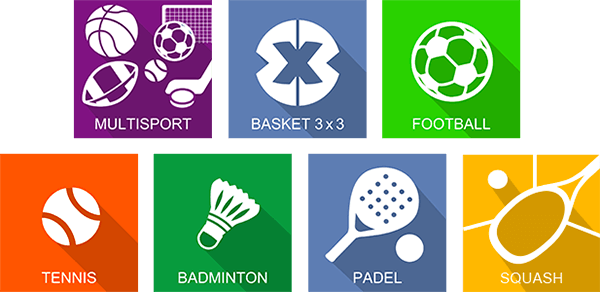 A selection of sports for all players.
Competitors, enthusiasts and occasional players alike will all have 7 sports to choose from:
Football: ideal for managing sports halls and clubs on your own.
Basket 3x3: great for a game between friends and colleagues.
Multisport games: everything you need for all types of sports and workouts.
Racket sports (tennis, badminton, padel, squash): for a simple and accessible self-refereeing solution, right at your fingertips.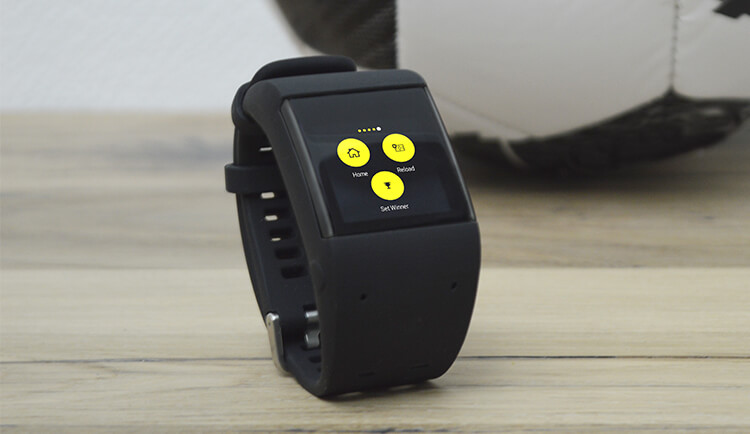 Incredible flexibility—for all users.
SCOREAPP is every player's best friend. It allows them to remotely manage the scoreboard and keep track of their own scores, all with an easy-to-use interface. Everything is done using a telephone or watch. Simply synchronise the scoreboard with SCOREAPP, and you'll being managing scores with the tips of your fingers—no wires, no hassle.
Did someone score a point? All you have to do is report it on your watch or smartphone, and SCOREAPP will make sure it's displayed on the scoreboard in an instant.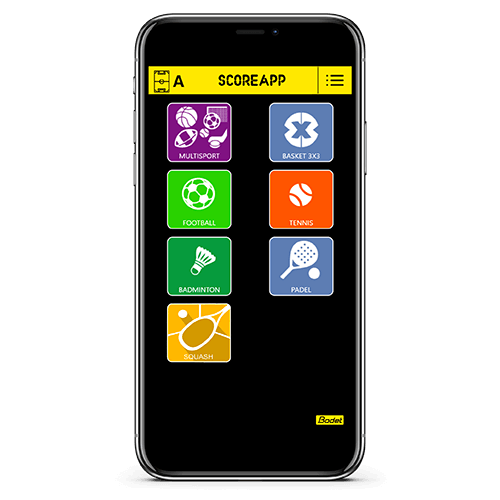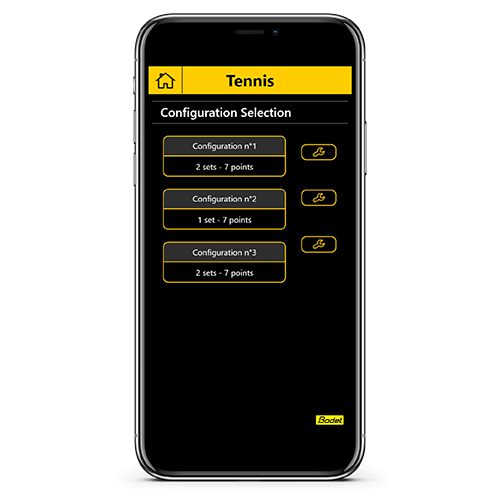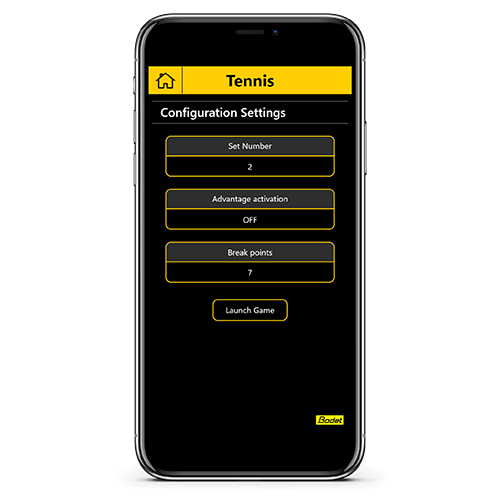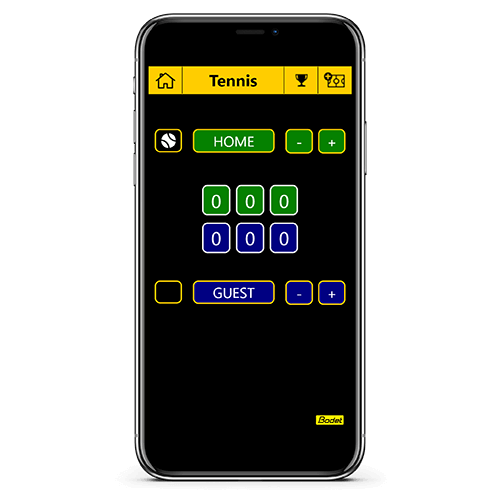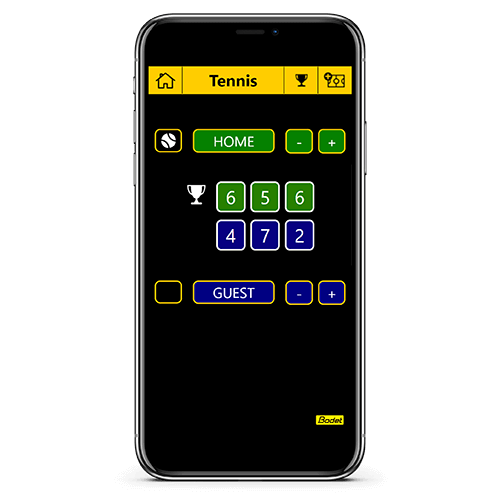 A customisable interface. Flexible choices.
SCOREAPP is designed to adapt to each user, allowing you to choose your sport and configure the game. Players can customise their match by selecting possession times, deciding on the number of points, games, sets, and periods, and even adding a game clock.
Anyone can change the rules of the game. Feeling up for a two-set tennis match? A 15-point badminton set? A 20-minute football match? Anything is possible! And if you like the way it's arranged as is, that's perfect: your settings will be saved until the next time you use the app.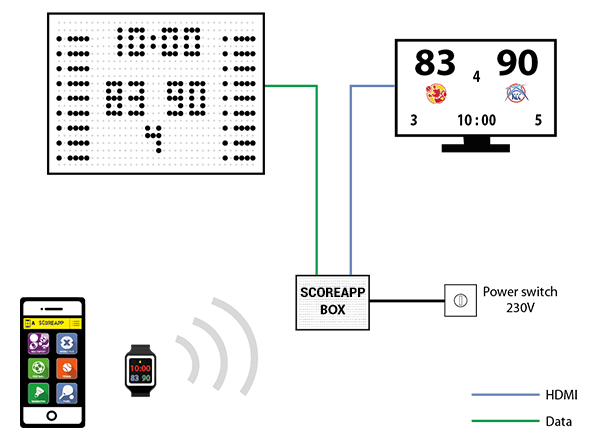 SCOREAPP

under the hood.

Everything that makes SCOREAPP tick comes in one package: the SCOREAPP Box. This high-tech device is installed near the display unit and connected to it with a wire. It provides a Wi-Fi network that allows the player to access the SCOREAPP interface, while also collecting data (settings and points) from the watch or smartphone and transmitting it to the scoreboard, which then displays the scores. It's as simple as that.

A whole range of Bodet Sport products compatible with
SCOREAPP

.

For multimedia display. Combined with the BTX6015 scoreboard, SCOREAPP offers optimal score visibility, ideal for players in the thick of the action. It can also be combined easily with the rest of the Bodet Sport range by connecting the SCOREAPP Box to the display unit (a scoreboard, television, video screen or video cube). And to make sure there's something for everyone, SCOREAPP can also be used on its own for easier scoring, right from your wrist or hand.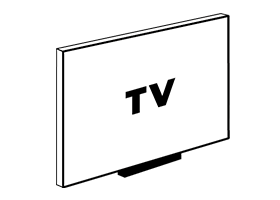 TV screen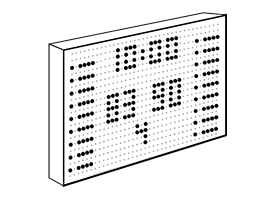 Scoreboard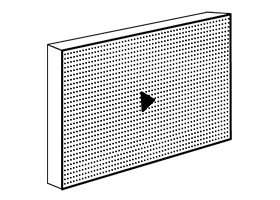 Video screen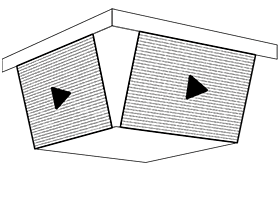 Video cube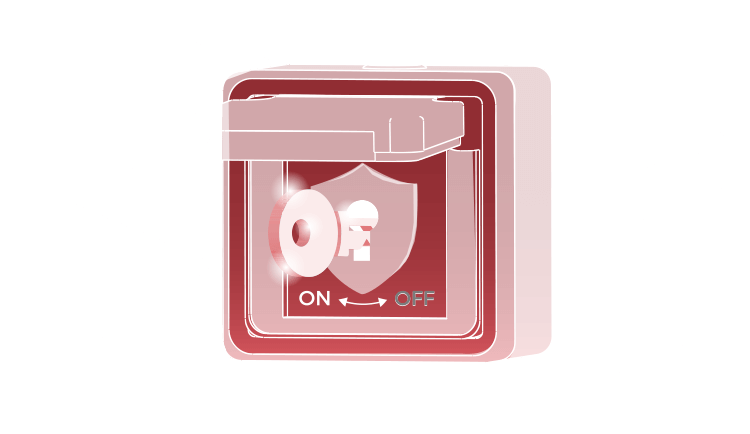 How is the app secured?
Players will have a private connection to the SCOREAPP Box, which allows for secure navigation between the information and scoreboard. Sports halls, meanwhile, will enjoy several security features:
Controlled access to the SCOREAPP device: enable and disable connections with the turn of a key. And if the facility is equipped with a SCOREPAD keyboard, simply flip a switch to toggle back and forth between SCOREPAD and SCOREAPP.
Controlled connection to SCOREAPP using QR-based authentication, with codes provided by the complex itself. Users won't be able to control the scoreboard without prior authorisation.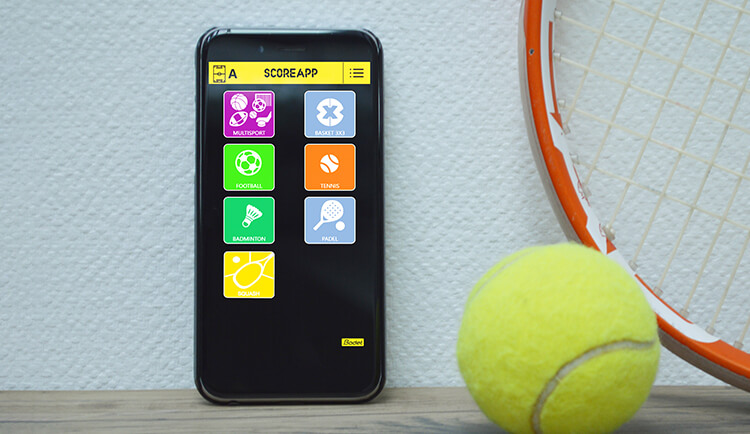 Watch or phone. Expand your possibilities.
SCOREAPP can be used with both smartphones and smartwatches.
Whether they use Android, iOS, Windows or any other operating system, all mobile phones are compatible with SCOREAPP. There's no application you need to download: simply connect to the interface using the Wi-Fi provided by the SCOREAPP Box.
Smartwatch users, meanwhile, will simply need to obtain a WearOS watch in order to manage the scoreboard right from their wrist.
How to connect to the app
Every player will have their own way of keeping score. It's up to them to decide whether their phone or watch will control the score. What's more, configuration is just as easy on either device.
PHONE
To connect to the app with your phone, you'll need two QR codes. The first QR code connects you to the Wi-Fi provided by the SCOREAPP Box. The second gives you access to the SCOREAPP interface from your browser. Both of these codes are provided by the facility where SCOREAPP is installed.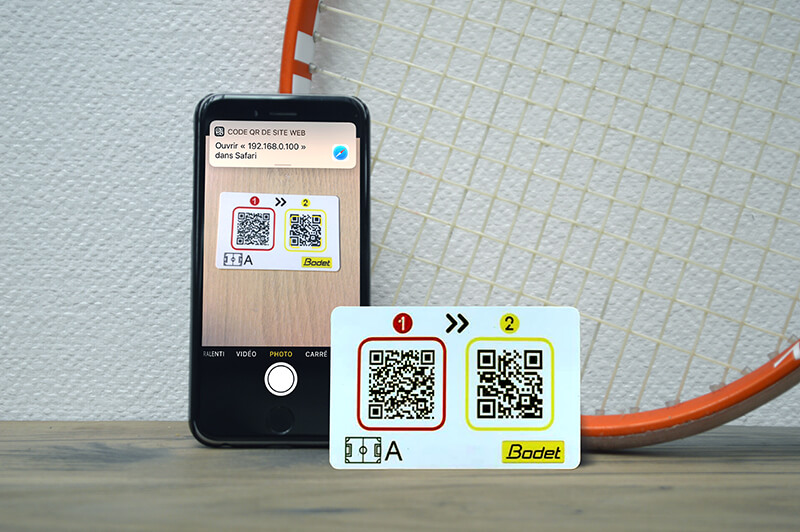 SMARTWATCH
Simply download SCOREAPP to your smartwatch, using Google Play Store, open the app on the watch, then select the facility's SCOREAPP Box in your watch's settings. Once the watch is synchronised with SCOREAPP, simply choose your sport and launch the game. To customise the game settings, simply reconnect to your smartphone and reconfigure the options however you see fit, then switch back to the watch. All of the new settings will be saved.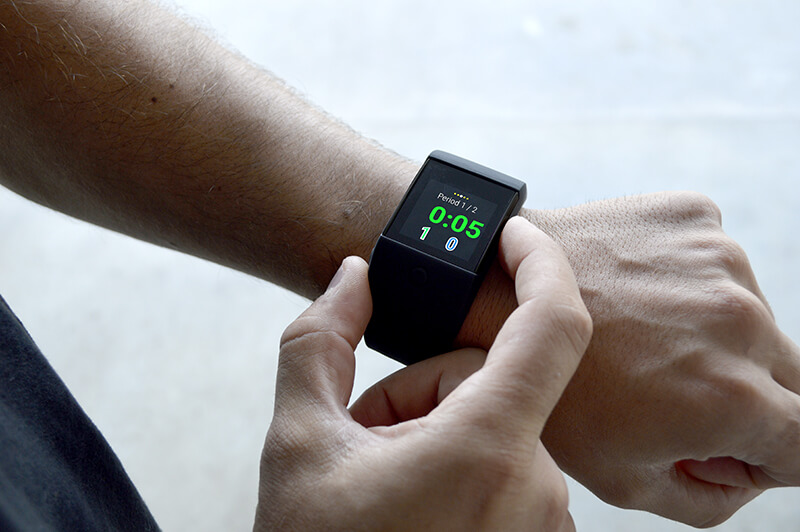 SCOREAPP

, a partner for the most dedicated athletes.

SCOREAPP works just as well in sports halls, gymnasiums, and sports and recreation centres.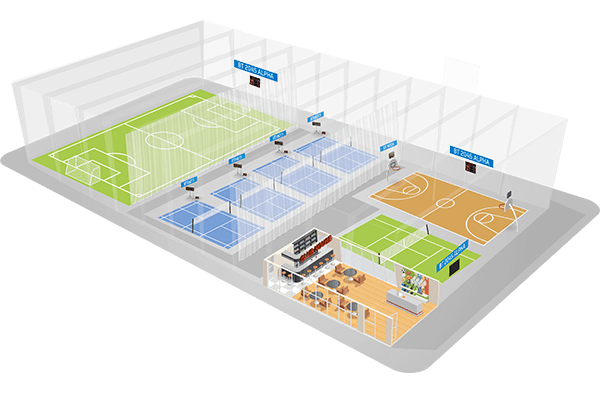 Sports halls & sports centres
SCOREAPP is the ideal solution for sports halls and sports centres. It satisfies both their own needs and the needs of their users:
Greater player independence
More self-sufficient complexes
A friendlier atmosphere between players
Open accessibility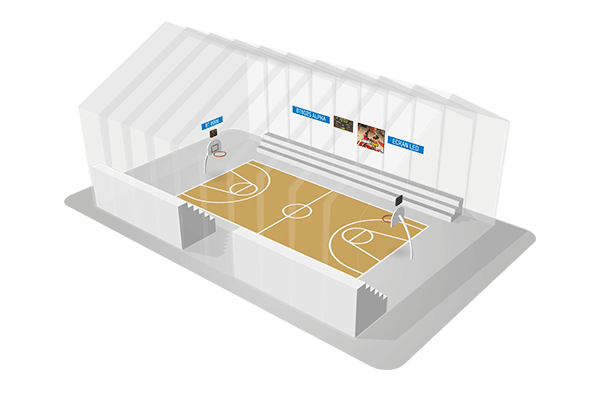 Gymnasiums
These days, few sports facilities fully use their scoreboards. Only the time is displayed continuously. The score, for its part, is only shown during competitions. That's where SCOREAPP comes in: it uses the scoreboard to its full potential, and allows amateur players and clubs to keep score at any time of the day.
SCOREAPP

: Manage your scores remotely.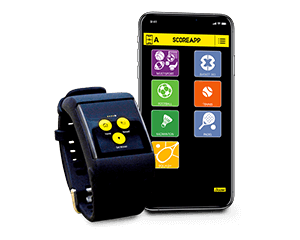 SCOREAPP
Remote score management (from a smartphone or WearOS smartwatch): Yes
Number of sports: 7
Customisable game modes: Yes
Multimedia display (scoreboard, video screen, TV): Yes
For gymnasiums: Yes
For sports complexes: Yes
For sports clubs: Enables greater player independence
Configuration: Settings can be changed by all players
Keyboard / Control box: an isolated SCOREAPP Box open to any user (with secure access)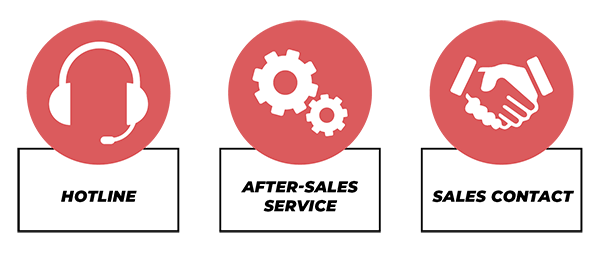 Installation. And beyond.
As soon as your equipment is installed, Bodet will provide you with optimal support whenever you need it. To take advantage of our service, you'll have a choice between contacting our hotline, our maintenance department, or your sales representative.
Updates are also regularly made available to improve the product's performance and add new sports to the app. Simply follow the instructions given to update your devices.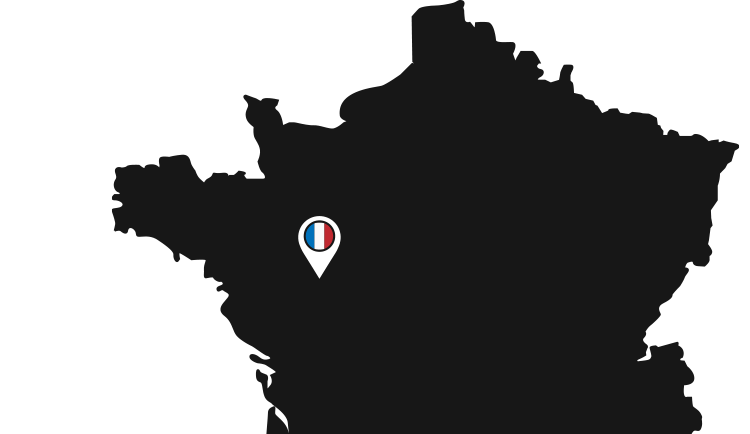 French expertise.
To provide you with high-quality service, our teams offer a wide range of expertise, including innovative thinking, sustainable, France-based manufacturing, and multilingual telephone assistance that perfectly matches your needs. And to protect the product's durability and quality, SCOREAPP resets itself every night to increase its lifespan and preserve its undeniable quality.