The 8T225 ALPHA FS10 scoreboard for your national and international competitions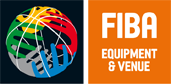 FIBA LEVEL 2
The 8T225 ALPHA FS10 is part of our 8000 range of scoreboards. This scoreboard offers multiple display: game clock, period number, personal fouls, player number, points per player and per team, etc.
Perfectly suitable for timing basketball, handball, or volleyball competitions, this scoreboard is also compliant with the FIBA LEVEL 2 rules.
A HOME/VISITOR version of this scoreboard is also available.
Technical features of the 8T225 ALPHA FS10 scoreboard