SCOREPAD

is a multisport touchscreen keyboard
Designed to manage any display types: scoreboards, video screens and TVs.
From a single keyboard, you can access and manage many different sports!


NEW SPORTS
Find out more about the new sports on Bodet SCOREPAD!

NEW DISPLAYS
Monitor the game in real time with the new generation of scoreboards, the 8000 range.
NEW SPORTS
Leader in sports display, Bodet provides solution for all your sports, events and venues.
And because we aim to cater for all sports enjoyment, you will now find seven new sports:
Baseball, Softball, American football, Interclub racket sports, Footy, Gaelik football (GAA), Rugby XIII.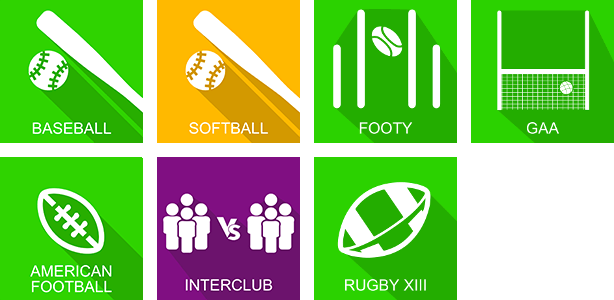 Other sports already available!
Badminton, Basketball, Basketball 3x3, Boxing, Floorball, Football, Futsal, Handball, Field hockey, Ice Hockey, Inline Hockey, Judo, Jujitsu, Karate, Korfball, Wrestling, Mini basket, Multisport, Netball, Padel, Rink hockey, Rugby, Taekwondo, Tennis, Table Tennis, Training, Volleyball, Water polo.
Team sports

















Combat sports






Racket sports




Other sports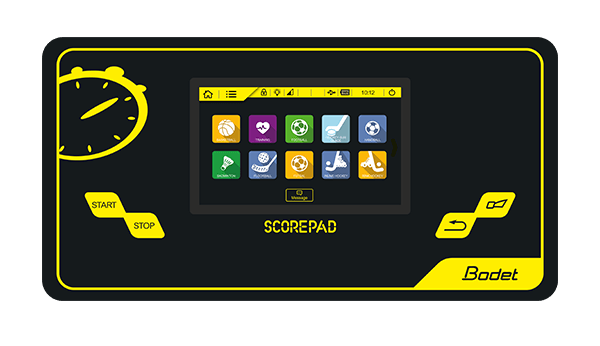 TOUCHSCREEN
Easily accessible, the user-friendly look and feel of SCOREPAD allows you to follow the game with great ease!
CONNECTIONS
Better connected than ever before, SCOREPAD offers a wide range of connectors!
USB
HDMI
Ethernet
MULTI-MEDIA
DISPLAY
A multi-sports display designed to suit all your sports!


ULTRA
CUSTOMISABLE
Your tastes and your colours are important to us!
Select your sport, jersey colours, team names, and so on.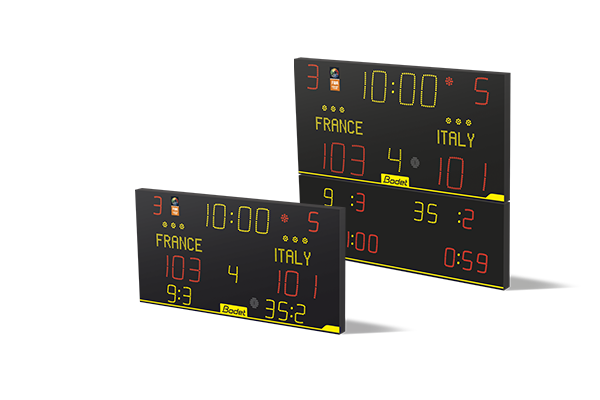 SCOREBOARDS
Find out about our new 8000 range of scoreboards!
New design.
More modern, curved LED typography.
Refined scoreboard for improved aesthetics.
Lower power consumption.
New, more effective LEDs consume less power while still providing optimal readability!