Display penalty times and individual fouls during your competitions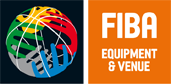 FIBA LEVEL 2
The medium-sized 8T125 Alpha F6* multi-sport scoreboard was specially conceived for basketball because of its ability to manage personal fouls. It it also features the display of penalty countdowns for other sports such as handball.
This scoreboard is ideal for medium-sized halls account of its high-brightness LEDs.
* The scoreboard is designed for sports halls hosting regional and national competitions.
Scoreboards Technical Features of Multisport Scoreboard 8T125 Alpha F6