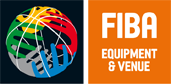 FIBA LEVEL 2
The 8T125 Alpha* F10 medium-sized multisport scoreboard is specially designed for basketball because of its ability to manage individual fouls.
This scoreboard is ideal for medium-sized halls due to its high-brightness LED display.
* This scoreboard is also available with the display of team names on stickers.
Technical features of the 8T125 Alpha F10 multisport scoreboard