Display your match information with the 8T125 Alpha multisport scoreboard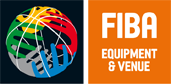 FIBA LEVEL 2
The 8T125 Alpha* scoreboard is a multi-sport scoreboard, it is ideal for racket sports and volleyball.
It allows penalty countdowns or set results to be displayed. This scoreboard is designed for sports halls hosting school, county and regional competitions.
* This scoreboard is also available with the display of team names on stickers.
Scoreboards Technical Features of Multisport Scoreboard 8T125 Alpha