Watch the clock during basketball matches using the BT6730 7M H10 Video Scoreboard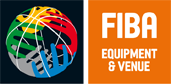 FIBA LEVEL 2
The BT6730 Video 7M 12P H10 is a basketball scoreboard, perfectly suited to international competition. With this scoreboard, you will display the name of 12 players and information for advanced-level basketball games.
In addition, it features a huge colour LED screen of 7m². The LED screen is an excellent medium that promotes communication partners and increases the impact of advertising.
This basketball scoreboard is designed for large halls such as arenas.
Scoreboards Technical Features of Basketball Scoreboard BT6730 Video 7M H10