Basketball scoreboards
Discover our selection of sports scoreboards dedicated to basketball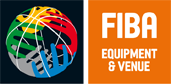 Bodet offers a progressive range of scoreboards for displaying basketball match information: from the simplest of models using stickers for the home and visiting teams to the most advanced offering full LED display.
Our scoreboards have been developed with different sports federations such as FIBA, FFBB, and LNB. Our basketball scoreboards are all FIBA approved.
Find out more about our selection of basketball scoreboards. This list is not exhaustive; we can also supply other models.