Bodet Sport in Austrian News Paper Sport Zeitung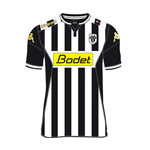 Bodet is the Major partner of Angers SCO French football club and is internationally recognised.
BODET confirms its commitment in high level sport performance. The Austrian newspaper Sport Zeitung presented all clubs playing in Ligue 1 of which Angers SCO is a competing team. The newspaper chose to illustrate its publication with a superb photo of a SCO football player wearing Bodet shirt.
Bodet is the successful Partner of Angers SCO for the second year.
BODET 40 years of Sport Leadership ! More information on Bodet Sport