Bodet SPORT: supplier to the stars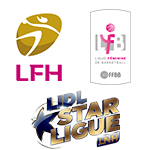 The professional French league games are over for another year!

This is the perfect opportunity for us to congratulate the teams playing in venues equipped by Bodet on the wonderful results which have graced our scoreboards. A special mention goes out to the girls at Tango Basket, who play at the Palais des Sports du Prado in Bourges and who are your French champions this season.
It has also been a fantastic year for handball, with French champions PSG Hand once again raising the roof in the Coubertin and Carpentier arenas! Over in the French Women's Handball Championship, it was the Dragonnes de Metz, playing at Les Arènes de Metz, who took home the title. Hot on their heels were ladies' runners-up Brest Bretagne Handball who play in Brest Arena, which is fitted out with a BT6730 14P H10 scoreboard.This arena will also host the European Women's Handball Championship matches at the end of the year!
>>See our full range of leading sports display equipment