Bodet at the All Star Game in Greece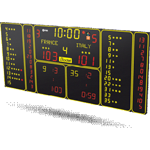 Bodet supplied 2 BT6525 alpha basketball and 1 BT6006 scoreboards for the All Star Game in Greece at Patras.


The BT6525 Alpha scoreboard offers a comprehensive list of features for displaying all the necessary match information, individual fouls and points with programmable player numbers. This scoreboard is also suitable for handball and volleyball as set and penalty information can be displayed.
For over 40 years, Bodet Sport has been designing and manufacturing a wide range of scoreboards for high-level sport competitions
>> More information on Bodet Scoreboards