Bodet handles the scoring and timing during the 2018 Coupe de France of basketball in Paris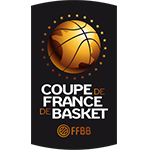 The AccorHotels Arena of Paris Bercy hosts during 2 days the longed-for high level basketball event of the end of this regular season. Show and ambiance will be present on Friday 20 and Saturday 21 of April in front of 15 000 spectators during the final rounds of the Coupe de France.

Bodet, expert in high level sports display, will once again handles the scoring and timing of this famous sporting event. The arena will be equipped with Bodet sport display solutions dedicated to basketball along with the scoring display software Videosport.
Once again the Bodet Company proudly shows its expertise in the field of high-level sport
>> Find out about our displays dedicated to basketball.