Bodet Video solutions for an optimum communication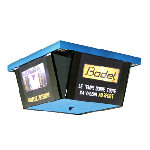 The video cube is made of four LED screens which allow the display of scores, live images of the match, video of the public as well as advertisement from the sponsors.

Every spectator can then make the most of all the game information.
This installation offers a double advantage for the clubs and the arenas since it makes it possible to enjoy better matches and to sell advertisement space.

Bodet offers a turnkey solution:

- Analysis of the mechanical stress by our design department.
- Follow up of the project with one of our sales people.
- Design of the supporting structure and Led screens in our factory.
- Delivery and installation on site by our technical team.

Recently, the Metz Arena in France was equipped with a Bodet LED video cube