BODET SPORT AT THE BASKETBALL FRENCH CUP FINAL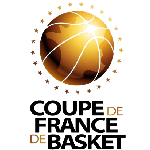 The Basketball cup final took place on 22th and 23rd April at Accor Hôtels Arena with Le Mans vs Nanterre. Nanterre won for the second time in its history.

On this occasion, Bodet was present with VidéoSport Software to manage installed LED video screens.
VideoSport displays scores and game information on LED video solutions: LED screen, video cube. You can display animated gifs, player presentations and sponsors and advertisers' commercials. Videosport simultaneously manages our scoreboards, our LED video solutions and various screens.